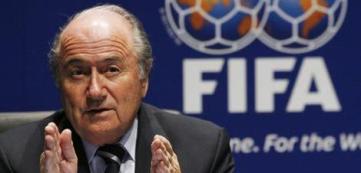 FIFA President and Hall of Fame member Joseph Sepp Blatter has given his strongest hint that he is still strong enough to boss the affairs of world football for another four years from 2015.
Blatter, FIFA President since 1998, has served four terms in office, with his current term running out in 2015. Many had thought the 78-year old would be calling time on his tenure after the expiration of his mandate.
But he was quoted by a Swiss paper as saying, "My mandate is running out but my work is still not finished", which implies that he will be looking to stay on.
Blatter will be expecting to formally ask the 209 member associations for a mandate to contest the 2015 elections when they converge for the Congress of FIFA in the Brazilian city of Sao Paolo on 10 June.
A few names had been touted as possible candidates for the 2015 election – notably former Deputy General Secretary Jerome Champagne, who came out publicly to announce his intentions, and Jeffery Webb, CONCACAF President who many had seen as the "chosen replacement" for Blatter. Both men had said they would not run against the incumbent. So it is expected that Champagne will be stepping down from the race.
One man whose position is still not clear, but of whom many will be interested to hear, is current UEFA boss Michel Platini.