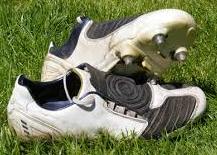 Namibia's national U20 women's soccer side is hard at work in preparation for their 2014 FIFA Women's U20 World Cup qualifier first leg match against Zambia on 26 October in Windhoek and will play against the senior national team on Sunday.
According to Jacqueline Shipanga, head coach of the team, the team is pushing through despite some players' commitments with national examinations.
"I am usually not one to complain but the preparations have been heavily hampered by the on-going National Schools Exams more specifically the Grade 10 and 12's. It is our philosophy to academically empower the Namibian girl child and one way of doing that is to encourage them to not only stay in school but also to perform exceptionally well," she said.
"This trend has been set by players such as Carmel Donn (Windhoek Gymnasium) and Lena Noreses (Jan Mohr) who while playing football at international level also managed to obtain 40 points in their Grade 12 exams last year and we would like the current crop to emulate such exceptional academic results, in order to eliminate this myth that sports men and women cannot excel academically," Shipanga added.
The training team is injury-free and has been well taken care of by renowned sports medic Donatha Ngunovandu and her understudy Julia Halweendo.
The technical team has also been boosted by the services former Brave Warriors and Tigers player Ace Komeya who was "one of the top performers in the previously held FIFA Advance Women's Coaching Course held earlier this year by Instructor Hope Powell", adds Shipanga.
NFA Technical Director Klaus Staerk and Brave Warriors coach Ricardo Mannetti have also helped the technical team ahead of the crucial first leg match against Zambia on 26 October at the Sam Nujoma Stadium.
Defender Lovisa Mulunga and goalkeeper Melanie Hikuam will be joining up with the team after their Grade 12 and 10 exams respectively ahead of the Zambia clash.
"We are all excited and looking forward to the encounter against the young Chipolopolo team and as much as we are aware of them being the current U20 Zone 6 champions we are not prepared to roll over and let them have their way," Shipanga concluded.
The team will play training matches against the 21 Brigade Ladies Football team while on Sunday at 16h00 they will take on their big sisters in the Brave Gladiators in what promises to be a mouth-watering encounter at the Sam Nujoma Stadium.