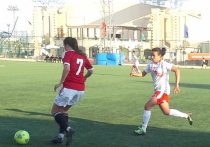 Egypt's chances of reaching the 2014 African Women's Championship (AWC) suffered a major blow after losing 0-3 to Tunisia on Sunday in Cairo.
The Tunisians go into the second leg with a three-goal advantage, meaning the Egyptians must score at least four answered goals to remain in the battle for a place at the ninth edition of the continental showpiece women's football competition in Namibia in October.
After a balanced opening minute, the visitors went up on 23 minutes through captain Hidouri Zina, to give her side a first half lead.
Three minutes from recess, Gonri Dhekra increased the tally before Maknoun Leila sealed victory with the third goal two minutes later.
The Egyptians fought on but their hopes were dented after Nesma Fikhri was sent off in the closing stages, hampering their quest for even a consolation.
In a post-match interview, Tunisia coach, Landolsi Samir said the game is far from over despite the 3-0 win.
"We are not finished yet. The three goals are important and we will finish it off in the return leg. We had a difficult start but recovered after 20 minutes. The first goal gingered us and we improved.
"The second goal came at a very important moment and finally the third one. The victory was good for us."
His Egyptian counterpart, Abdel Fattah Abbas said "Unfortunately, my players had an off- day on the field today and just didn't play well but that is football.
"Tunisia played well and deserved their win. This contest is not over yet. We can possibly win 4-0 in Tunisia. We have to go there believing we can play better than we did today."
The return leg will take place on Tunis on the weekend of 28 February to 2 March 2014.