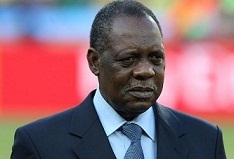 Dateline: 10 March 1988. Venue: Cassablanca, Morocco. Occasion: CAF General Assembly.
History was made this day. It was the day of the election of a permanent successor to Ydnakatchew Tessema, President of CAF who died the year before after a protracted illness.
The stage was set for elections, and a youthful Issa Hayatou was standing against bigwigs of African football at the time.
The result was not straightforward, and it required three rounds of ballot before a clear winner emerged. But one did emerge, and it was Issa Hayatou – who won by 22 votes to 18 over Godfried Ekoue from Togo.
Issa Hayatou was 42 years old at the time. He was relatively younger and relatively less experienced, but he took the mantle of leadership of African football in 1988, started working, and has not looked back since.
Today marks exactly 26 years since that historic day. 
CAF President and Hall of Fame member Issa Hayatou is marking another year in charge and is further cementing his position as the longest serving Confederation President in the history of sports administration, anywhere in the world. And he is doing it with authority and conviction, with achievements to show for it.
African football has evolved dramatically over the years that he has been in charge. There has been more successes, more representation for Africa in global competitions, and to top it all, the World Cup was hosted in Africa in 2010, for the first time ever.
President Hayatou always wants the best for Africa, and when he gets something, he wants more. Recently he said "What will make me happy now, after all these achievements will be to get more successes. I do not see why Africa can not have one or two of our representatives reach the semi final or even final of the World Cup, during my time as CAF President". 
We all remain hopeful that Algeria, Cameroon, Cote d'Ivoire, Ghana and Nigeria are listening, and would try and do the continent proud in Brazil later this year.