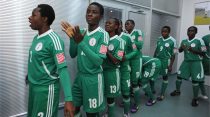 Nigeria's U-17 women's team is holding a training camp in Faro, Portugal, ahead of the 2014 FIFA U-17 Women's World Cup in Costa Rica.
The Flamingoes will be in the southern Portuguese city for 19-days to fine-tune for the global tournament scheduled for 15 March to 4 April.
According to the Nigeria Football Federation (NFF), the team will engage selected clubs in Portugal to test their readiness for the world event. The Flamingoes will play their Belgium counterparts an international friendly on March 4 in Brussels before returning to Faro, to wrap up their preparations.
Twenty-five (25) players made the trip, but four will be dropped after the training camp.
The Nigerians are expected to travel to Costa Rica on March 12, four-days prior to their opening game at the tournament. The West Africans are housed in Group D with China, Colombia and Mexico.
Like Ghana, Nigeria has appeared at every edition of the biennial championship since its inception in 2008.
Debutants Zambia completes the three African representatives for the fourth edition of the world cadet women's championship.