We are always on the lookout for new talent at NAS. So if you're passionate about African football and love to write, get in touch!
ISSUE 10 OUT NOW!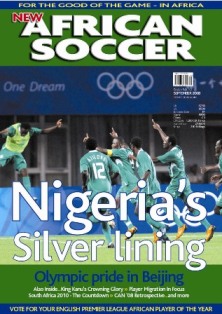 JUST REGISTER TO DOWNLOAD IT FOR FREE!
| | |
| --- | --- |
| Amodu Shuaibu......Yet another Chicken Breeder | |
Written by Sylvester Awenlimobor
The "Super Chickens" of Nigeria on Wednesday February 11, 2008, were once again on display for the world to "admire" after a couple of month's absence. This time around they chose to display their nauseating brand of football (they usually keep this for special occasions, the panic-laden one is the most popular) against a feeble Reggae-playing Jamaican side that obviously were more interested in joining Damian Marley on stage rather than kick some round object around.

The much talked about tactical incompetence of Amodu Shauibu was also on full parade as a bunch of over-paid and de-motivated boys almost made the infamous Ladan Bosso's U-20 team (Bosso still has the top honors for tactical incompetence, and I won't take it away from him) seem like World Champions, after they played out what could easily be described as the most embarrassing 90 minutes of soccer in recent years.

The game itself was something of a lullaby and the few spectators who had churned out their hard earned monies to enter into the stadium (considering the present economic situation in the world) must have felt cheated.(a night at the Cinema watching Johnny Bravo or any other cartoon would have made more sense if you ask me).

The most pathetic part of the whole scenario is the fact that the team Amodu put on that pitch at Milwall was undoubtedly Nigeria's strongest force, who we all are hoping would take us to the next world cup! Need I say that at this point I can't see that team getting us to South Africa? The Tunisians would really be counting themselves in "big-time" after watching their biggest opponents play out their "best".

The same uncoordinated tactical balderdash that characterized Berti Vogt's African Nations Cup team, which was also the hallmark of Ladan Bosso's "young-team?", (Take a look at Edile for Christ sake!) was all too evident in Amodu's special collection of over-pampered stars.

Many soccer pundits might want to blame the flaccid attitude of the players on the fact that it was just a friendly encounter, "why should they play out their heart for a meaningless game?" That ignorant submission quickly comes to discredit when you take a look at the England-Spain encounter or the Brazil-Italy game, both "meaningless games".

It is still amazing that we do not see reasons to bring in a "natural" central offensive midfielder into the Nigerian senior team. Why do we keep forcing Mikel into a position that has been washed out of his system? Mikel has lost the ability (If he ever had it) to play the role Austin "Jay-Jay" Okocha played for us for several years.

There is a certain Rabiu Ibrahim that can comfortably handle that position, but due to the Nigerian mentality that is so prevalent on Amodu's technical team, they want him to "mature" first before he enters the National team. How old was Kaka when he started playing for the Brazilian National team? what of Pato, Rooney, Owen? The list is endless. A good coach knows who he wants, a bereft one wants who he knows.

It is quite co-incidental that just a day after that better-forgotten encounter against "the Musicians from the Caribbean's" the National team slumped down the FIFA rankings from a questionable 17th position to a more understandable 23rd place (A position that FIFA might have to reconsider after watching that shallow exhibition between one of Africa's erstwhile power-house against the minnows from the Caribbean's).

The Nigerian Football Federation (a confused bunch of political jobbers who do not have the interest of the country at heart) have always found ways to inflict upon us their self serving interests, whereby they select coaches for the various National teams not on merit, but more on what they believe they would gain financially from having the coach on board. There is no other explanation as to why we should be suffering the double tragedy of Ladan Bosso and Amodu Shuaibu at the same time. Will we ever learn anything in this country?

I want to clearly state here that Mr. Amodu and his technical bench of trial-and-error individuals will not take Nigeria to the World Cup, and if they are left alone the damage to our beloved National team (yeah, I still love the team) would be so much that the Nation's football might relapse into a comatose state for a couple of years. (Ask the Senegalese)