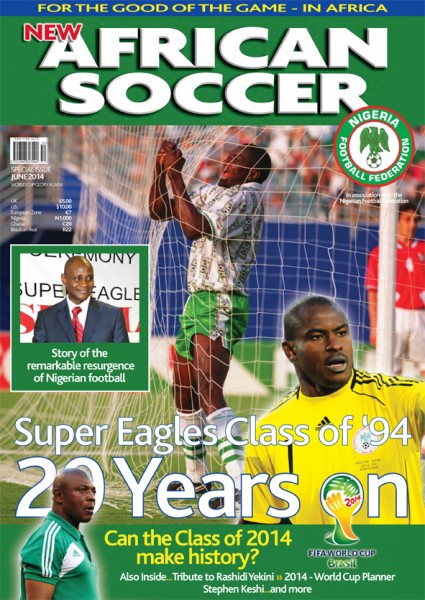 NAS World Cup 2014 Special Issue Printed Version
Printed Version
This is a bumper issue packed with interviews and articles we hope you will enjoy. 64 pages including interviews with Stephen Keshi, Vincent Enyeama and Siasia amongst many more great pieces. We hope you will support us here at NAS.
In this issue:
Stephen Keshi
The Story of Stephen Keshi, captain of the Class of '94
and current Head Coach of Super Eagles
Resurgence…
Nigerian Football Rebirth - 2010-2014,
featuring an in-depth interview with Aminu Maigari
Efan Ekoku
1994 Reminiscences - Efan Ekoku - The "Outsider" in the group.
His thoughts on the past and present
Where are they now?
A look at the Class of '94 - where are they now?
Your guide to Brazil
Your guide to Brazil, and Nigeria's match venues
2014 World Cup Planner
Chart your way through the tournament
My 1994 Experience
1994 Reminiscences - Nigerians of all walks of life,
on their recollection of those golden moments of USA '94
Vincent Enyeama
Vincent Enyeama Exclusive - A look at the present.
Looking to create history and be a part of a legendary Class of 2014
Super Eagles 2014
The Provisional Eagles squad to Brazil
Sunday Oliseh
1994 Reminiscences - Sunday Oliseh - The "small boy" in the group.
From USA 94 to Brazil 2014
1994 Reminiscences - Fans, represented by the Supporters' Club.
Dr Rafiu Ladipo features
Siasia
1994 Reminiscences - Samson Siasia - on the moments he enjoyed,
his history with Argentina
Rashidi Yekini
Tribute to Nigeria's most prolific striker Rashidi Yekini
Unfortunately the postage costs from the UK are high, we have tried to discount these as much as possible, just to make it as affordable as possible. We're really sorry we can't offer this any cheaper, but I'm sure you'll find it worth the cost once you receive it. UK International postage is supposed to take 3-5 days.
Please keep in touch, you can always contact me at
[email protected] with any queries.
You can follow us at www.newafricansoccer.com
or on twitter @NASmagazine
Here's to a great World Cup in Brazil.
Good luck to all the African nations participating.
Julian Clark
New African Soccer Magazine
Only logged in customers who have purchased this product may leave a review.