PROMOTE YOUR LOCAL FOOTBALL NEWS ON NEW AFRICAN SOCCER... LET THE WORLD KNOW AFRICA LOVES FOOTBALL AND THERE IS A LOT HAPPENING ON THE CONTINENT!
| | |
| --- | --- |
| AFRICAN FOOTBALL HALL OF FAME...... ADELAKUN DEFENDS FIRST CHOICES | |
Written by Patrick Doamekpor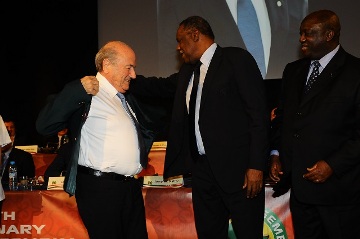 The Director of the newly-formed CAF Hall of Fame, Ayotunde Adelakun has come out in defence of the choices made and the decision to make CAF President Issa Hayatou and FIFA President Sepp Blatter pioneer members of the esteemed Hall. 
 The choice of these two gentlemen has been called to question in certain quarters since the launch last week. But Adelakun, in a no-holds-barred chat, said it was the right decision. 
"The Hall of Fame is not just for football players on the pitch. Our desire is to have a Hall that would celebrate everyone who has had something or other to do with the growth and development of football in Africa over the years", he explained. 
"What makes football complete is not just the players. There are coaches, referees and administrators. We have awarded Hall of Fame status to two people who have been ever-present in the running of football for as long as anyone can remember" the Director continued. 
Remarking on claims that perhaps Messrs Blatter and Hayatou bribed their ways into the historic Hall, Adelakun, who was the originator of the concept of a Hall of Fame for Africa retorted "that is utter nonsense. Mr Hayatou has been running football since the 1970s, and became CAF President since 1988. President Blatter, on the other hand, first courted Africa in 1976. That was 37 years ago. And he has remained steadfast in his support for Africa since then. How can anyone feign ignorance of these facts?" he wondered. "For these men to have been involved that long, regardless of what critics can pin down on them, let's face it - they must have also been doing something right". 
"Administrators set the stage for players to excel. If there was no organised football in Africa; without an African Cup and a World Cup, where would these players be?" he continued. 
Having launched with these two big men in football, Adelakun called the attention of the football public to the concept, saying "we want the public involved. Choose who you think is worthy of being in the Hall of Fame. It s a project for all fans and lovers of football. Through our website and our Facebook pages, we want you to connect with us and give us your opinion. Your nominations will be considered and the next investiture ceremonies, hopefully in October, will reflect public choices", Adelakun concluded.