We are always on the lookout for new talent at NAS. So if you're passionate about African football and love to write, get in touch!
ISSUE 10 OUT NOW!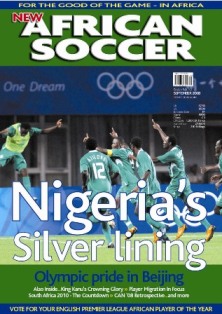 JUST REGISTER TO DOWNLOAD IT FOR FREE!
New African Soccer is the only magazine/ezine devoted to the beautiful game from an African perspective. We pride ourselves on not only bringing you interviews with the biggest names in the game but also building African football from the grassroots up. New African Soccer is the only place to follow all aspects of the game in Africa- we give space to women's football, Africa's domestic leagues, internatonal competition, Africa's foreign legion, and the youth game as well as spotlighting the cultural, social and political dynamics that make football in Africa what it is today.
Our bi-monthly magazine is available free to download as a pdf and the New African Soccer blog is the place to find comment and analysis on the latest twists and turns from across the continent. Our team of correspondents from across the globe keep you updated with news and views whilst refreshiing the parts other media outlets just don't reach.
We are a committed team of journalists, academics, photographers and administrators giving voice to the hopes, fears and aspirations of the continents football community all for the good of the game in Africa.