PROMOTE YOUR LOCAL FOOTBALL NEWS ON NEW AFRICAN SOCCER... LET THE WORLD KNOW AFRICA LOVES FOOTBALL AND THERE IS A LOT HAPPENING ON THE CONTINENT!
| | |
| --- | --- |
| CAF LAUNCHES HALL OF FAME | |
Written by Patrick Doamekpor
….inducts Hayatou and Blatter as pioneer members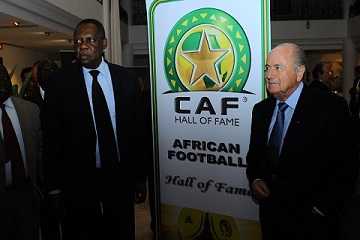 Confederation of African Football, in Marrakech, Morocco shortly after the General Assembly that restored its President, Issa Hayatou for another four year term, recorded another first on Sunday. It launched a Hall of Fame, which has been designed to recognise the exploits of individuals who have done one thing or other to positively help African football.
 Brainchild and pet project of the originator, Ayotunde Adelakun, who has also been made Director of the Hall of Fame, the Launch was conducted alongside the investiture of the first members into the Hall.
 CAF President Issa Hayatou, celebrating 25 years to the day of his stewardship at the head of African football, was the first member to be decorated. Citing an elaborate eulogy ahead of his decoration, CAF Vice President Suketu Patel read out the huge steps that Hayatou had taken since ascension in 1988 to ensure that Africa is positively represented in global football.
Hayatou was decorated with a commemorative blazer and a crystal glass trophy.
Then came the turn of FIFA President Sepp Blatter, who was also extolled by a citation read by the Second Vice President of CAF – Kabele Camara – in which Blatter was said to have formed a bond with Africa as far back as 1976. This love for Africa was what culminated in him working hard to ensure that the 2010 World Cup was hosted successfully in Africa.
 Blatter was especially excited at his induction and immediately tweeted "Really honoured to be inducted into the Hall of Fame of African football".
 Speaking after the short ceremony, Director of the Hall of Fame, Tunde Adelakun said "this is just the beginning of what we hope would go a long way to celebrate all our stars of yesteryears. There is no limit to who we shall induct, as long as they have contributed positively to African football".
 Adelakun added that players (past and present), coaches, referees and administrators would all be recognised in time. He also stressed that a physical Hall of Fame would be installed in the CAF Secretariat in the not-too-distant future where visitors can go and learn more about members.
 Adelakun pointed people to the website of the project (www.cafhalloffame.com) and its Facebook and Twitter pages for people in the football fraternity to "feel free to nominate who, in their opinion, would be their choice of member for the Hall of Fame.
"We want the public's involvement. Nominations will come from football associations and individuals, and would be considered by a soon-to-be-constituted Hall of Fame Committee. The ones we agree with will then be forwarded to the CAF Executive Committee for ratification. This will form the basis for our next investiture, which we are hoping to take place in September/October this year", the Director concluded.