PROMOTE YOUR LOCAL FOOTBALL NEWS ON NEW AFRICAN SOCCER... LET THE WORLD KNOW AFRICA LOVES FOOTBALL AND THERE IS A LOT HAPPENING ON THE CONTINENT!
| | |
| --- | --- |
| HALL OF FAME – ONE YEAR ON | |
Written by Maria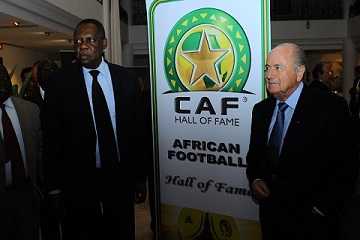 It is exactly one year to the day, that the CAF Hall of Fame was launched, and the first members were inducted.
On March 10 2013, in Marrakech, Morocco, at the venue of the CAF General Assembly, which also saw the re-election of CAF President Issa Hayatou for a sixth term, the Hall of Fame was launched.
The objective of the Hall remains the same. To honour and celebrate all who have made positive contributions to the growth and development of African football, and who have helped put Africa on the world map in a positive way, through football. 
The Hall of Fame will incorporate people who have excelled on the field of play, and as coaches and administrators alike. The first inductees are CAF President Issa Hayatou and FIFA President Joseph Sepp Blatter.
These two men have contributed immensely to where African football is today.
CAF, through President Hayatou, has taken Africa to huge heights during his tenure. Most African countries will attribute one development or other to the innovations of CAF under President Hayatou.
As for Sepp Blatter, he remains a staunch supporter of African football, and his singular gesture, honouring his pledge to fight to bring the World Cup to Africa, among other things his administration has done for member nations, was enough to earn him the accolade and recognition of the second pioneer member of the Hall of Fame.
We have allowed the two gentlemen to have exclusive membership of the esteemed Hall for one year, and we are now prepared to inaugurate more members.
Our second induction will take place at the venue of the CAF General Assembly 2014, in Sao Paolo, Brazil on 9 June 2014.
We want you to join in the debate and nominate your entries for who you want to see at the CAF African Football Hall of Fame. 
Get in touch. Name your African heroes. We will consider all entries in selecting our next batch of inductees, and we will reward those whose nominations are passed through.
Contact us through This e-mail address is being protected from spambots. You need JavaScript enabled to view it or This e-mail address is being protected from spambots. You need JavaScript enabled to view it . You may also reach us through our Facebook page – facebook.com/cafhalloffame or our Twitter page - @cafhalloffame.