We are always on the lookout for new talent at NAS. So if you're passionate about African football and love to write, get in touch!
ISSUE 10 OUT NOW!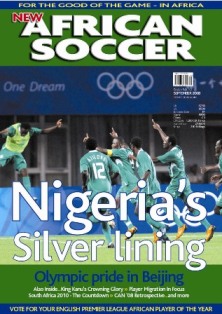 JUST REGISTER TO DOWNLOAD IT FOR FREE!
| | |
| --- | --- |
| BORA STILL HAUNTED BY NIGERIA EXPERIENCE | |
Written by Maria Matejickova
.......says nothing seems to have changed since 1998
Bora Milutinovic is a name that many Nigerians hear and take a backward step. Anytime there is talk about the need for Nigeria to change its technical crew, when the debate on whether to hire a foreign or indigenous coach rages on, if you want to set any Nigerian off, just mention the name 'Bora' and they will grimace.
To many, this guy did nothing for Nigerian football. People say he just came to Nigeria for the money, and didn't have the interest of the country at heart.
Mind you, he was at the helm in 1998 when Nigeria had that famous victory of Spain in their opening game of the France 1998 World Cup. The Nigerian team also won their second game, qualifying for the second round, then going down 1-4 to Denmark.
The memory is still so fresh in Bora's mind. 'I always think about that team and what we could have done in 1998', he reminisces. 'We had a good chance of making it to the quarter finals and maybe even surprising a few teams along the way. What many Nigerians do not realise is that nothing went right for us. First we lost Ike Shorunmu, who was at the very top of his game at the time, and we had to bring in Peter Rufai'.
Bora reels off the names of the players he coached for only a few months 11 years ago, like if it was just yesterday. 'I'm an old man', he says, 'I have nothing left in this head but memories, so why would I not remember the names of some of the best crop of players I worked with'.
Bora is the only coach to have led five different national teams to 5 different World Cup finals, taking 3 of them beyond the qualification stages. He maintains close ties with the USA, Mexico and Costa Rica and supports them in every way possible. So why not Nigeria?
'I look at Nigeria's progress in football from a distance', he explains, 'because I did enjoy my time there, but it left a bitter taste in my mouth'. It was only in Nigeria that he faced 'interference in my choice of players. One time, I picked my team for a game and then got a call saying that the Presidency wants me to field a certain player'.
Bora only recently completed his contract as coach of Iraq where he led them to a promising performance in this year's Confederations Cup. 'It is difficult building a team from scratch after the war in that country, but they certainly have a good bunch of players and their passion for the game is superb'.
On what happens to him next, Bora remains philosophical, 'I am a practical man. I have done a lot, more than many notable managers have ever done and can ever achieve. I would want another go at a big football country, but certainly would not lose sleep if nothing comes'. He has a love for the English game, though, 'who wouldn't?', he asks. 'The passion for the game in Britain is great. Capello is doing a good job so I have no chance there, but who knows? I quite fancy the challenge of taking on the task of rebuilding Scottish football, and lead them from under the shadows of England. Scotland has a great bunch of players and their football needs a foreign input, like what Trapattoni is doing in Ireland, and Capello is doing for England. Maybe Bora can be the foreign messiah that Scotland needs', he said.
And why not come back to Africa and take on the challenge of coaching the true and raw talent that the continent has? To this he replied, 'One, not all countries have great natural talent in Africa. People think the whole of Africa has talent in football, but the truth is that it is limited to only a few countries. But to be honest, after my experience in Nigeria, I am not sure I have the mental strength to withstand a similar situation again, so it always rules Africa out as far as I am concerned'.