We are always on the lookout for new talent at NAS. So if you're passionate about African football and love to write, get in touch!
ISSUE 10 OUT NOW!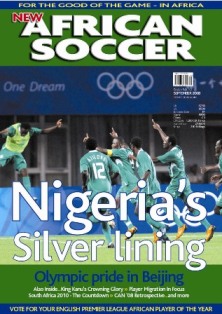 JUST REGISTER TO DOWNLOAD IT FOR FREE!
| | |
| --- | --- |
| KENYAN FORTUNES ON THE UP… | |
Written by Maria
It was a weekend of glee for Kenyan football, whose leadership appears determined to take the country to heights yet unexperienced in the history of the nation's football.
Last Wednesday, the senior national team of Kenya – the Harambee Stars – defied odds, even surviving a walk-out of their star player, Parma of Italy's McDonald Mariga to record a famous 2-1 home win over Togo in the 2013 African Nations Cup qualifier played in Nairobi.
It was a sweet victory for the nations, and especially the new leadership of the Football Kenya Federation, which came in amidst controversy and long-running battles in-house late last year.
National Chairman of FKF, Sam Nyamweya, was full of praises for the Harambee Stars, "it was the best performance we have seen by the Stars in recent years,", he said, continuing "even without Mariga, the boys played brilliantly. In fact, it appeared that the walk-out by Mariga was a tonic, which the likes of Dennis Oliech and Victor Wanyama Mugubi needed to liberate themselves in midfield and cause problems for the Togolese", he gushed.
Nyamweya, former General Secretary of the then Kenya Football Federation has vowed to put Kenya on the world map of football. "We are a leading nation in other sectors in Africa – tourism, business and economy", he said. "Our football has the talent, the fan base, the commerce and I am determined to harness all these fantastic attributes and join good leadership to it to make Kenya a leading force in regional and continental football".
To buttress his conviction, Kenya's female national team engaged their Zambian counterparts in an African Women's Championship qualifier only a few days later (on Saturday March 3) and triumphed with an emphatic 4-0 thumping.
"We want to announce a resurgence of our football in all sectors, gender and age-group, and this is just the start" said Nyamweya. "The second leg of the African Cup qualifier against Togo will be a difficult game, but we can do it. And as for the girls, it is theirs to lose, having picked up a respectable 4-0 win at home. We want to qualify for both competitions and start the building of Kenyan football, properly", he concluded.