We are always on the lookout for new talent at NAS. So if you're passionate about African football and love to write, get in touch!
ISSUE 10 OUT NOW!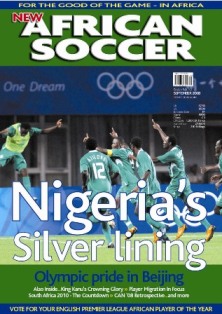 JUST REGISTER TO DOWNLOAD IT FOR FREE!
| | |
| --- | --- |
| SENATE'S PROCLAMATION ON NIGERIAN FOOTBALL – "UNFAIR, UNCALLED FOR" | |
Written by Maria
Ripples ran through the rank and file of Nigerian football hierarchy on the eve of the Nigerian Super Eagles' Africa Cup qualifier against Rwanda. News reached the Nigerian camp that there was a session in the nation's Senate, where the leadership of the legislative body stated that Nigerian football was a "house of corruption" with leaders who did not know what they were doing.
Regardless of which side of the argument you listened to, there was tension.
Officials of the Nigeria Football Federation were livid that such statement could have been made. One senior official of the NFF, who preferred anonymity said "How can anyone say we are a house of corruption? It is unfair. There was no need for it". Continuing, he said "that was a very inflammable statement which could incite unrest in the country. Football is the one sport that holds the country together, and some individuals just feel that, because they have the power to sit in a chamber and enact laws, they can say anything to anyone".
Buttressing the point raised, another top official joined in "Do you know it is slander? If this is America, we will sue these people".
The Chairman, Senate Committee on Sport, Mr Lokpobiri, came under scathing attack from the NFF hierarchy. "The man campaigned actively for Samson Siasia to be retained by us when our Super Eagles failed to qualify for the Cup of Nations" the official said, stating "he is from Siasia's part of Nigeria, and he spoke to everyone about why we should keep him in the job. When we did not budge and went ahead to sack Siasia, it seemed we had drawn battle lines with this man".
"Lokpobiri is a lawyer, and if he knows his business, he should know better than to slander an organization that represents the interests of millions of Nigerians, many of whom were the ones who elected him into power" the official concluded.
Nigerian football has been going through a spate of crises since the present leadership was elected in August 2010, with numerous court cases challenging the legality of the Board and the name of the Federation.