We are always on the lookout for new talent at NAS. So if you're passionate about African football and love to write, get in touch!
ISSUE 10 OUT NOW!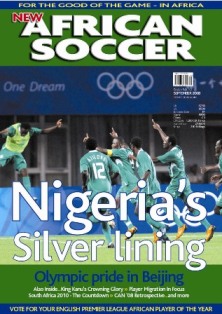 JUST REGISTER TO DOWNLOAD IT FOR FREE!
| | |
| --- | --- |
| Dynamic Dynamos | |
Written by Hiral Bhatt
Dynamo's qualification for the African Champions League Semi's is breath of fresh air for African Club football. Zimbabwe's political problems are well known, but Dynamo's have overcome these as well as the perfunctory bonus rows to reach a level of club football that has in recent times been the exclusive domain of the big guns from the Maghreb and West Africa. While few would think that Dynamos will end up as winners of this great tournament, one would be foolish to underestimate them. Dynamo's have shown that they can score and are exceedingly dangerous when playing at home.
Zimbabwean football looked to be on the up when a Benjani led Zimbabwe to a decent Nations Cup performance in 2006. The team did not use this as a springboard to greater things, no doubt hampered by the internal problems in Zimbabwe. But Dynamo's success will surely bring some much needed cheer to the great people of Zimbabwe.