We are always on the lookout for new talent at NAS. So if you're passionate about African football and love to write, get in touch!
ISSUE 10 OUT NOW!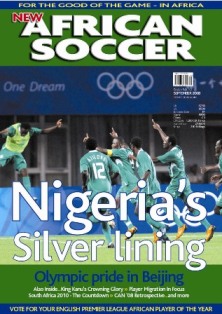 JUST REGISTER TO DOWNLOAD IT FOR FREE!
| | |
| --- | --- |
| EXCLUSIVE INTERVIEW- KANU ON NIGERIA'S OLYMPIC SILVER | |
Nigeria went into the Beijing Olympics football tournament confident that they will do well. They were confident that they will return with gold to emulate the exploits of their seniors in the 1996 edition in Atlanta. They were labelled the Dream Team IV.
The rest is now history. Nigeria flew the flag of Africa along with Cameroon and Cote d'Ivoire.
Africa put in an impressive showing – presenting three of the final eight, and Nigeria outlasted the others, getting to the finals and losing narrowly to Argentina.
Captain of the Nigerian team that actually won gold in 1996 Nwankwo Kanu shares his views with us especially on the future of the game in his country, with this impressive showing.
New African Soccer: Your record still remains intact, Kanu. You are still the only captain to have won gold for Nigeria.
Kanu: That doesn't even come to mind. I don't mind my record equalled. In fact, I wanted it more than anything. I wanted Nigeria to win gold. We had the team that could have done it. I am proud of them and what they achieved. It is a pity that they won silver. I think we have proved to the world that 1996 was no fluke.
NAS: What did the team do that they should not have done? What cost them gold?
Kanu: Luck. They worked hard enough. They did very little wrong. They are humans so of course in the course of the tournament, there were mistakes here and there. But their mistakes definitely did not outweigh their good points, which was why the never lost a game going into the finals. No, I don't think they could have tried any harder. They just needed that little bit of luck.
NAS: Chinedu Ogbuke was not in the final, and he has proved the talisman of the Nigerian team leading up to the finals...
Kanu: Every member of the squad was a talisman in his own right. They all played well, and yes, I agree that Chinedu was good, he had a great tournament, but so did many others. I am sure they coped well without him and if God has said we'd win gold, we would have, even without him. I have worked well with Chinedu the few times he was drafted into the senior squad and I like him. He works hard and he is a naturally gifted star but many others in the team were as well.
NAS: Would you say Ogbuke was your revelation of the Nigerian team in the tournament? Which player stood out for you?
Kanu: I am not trying to be diplomatic or anything here, believe me. I speak from my heart when I say they all did well. Ogbuke was good at what he did, and executed it well. I liked that. But who didn't? Osaze (Odemwigie) was very good, and Obinna (Nsofor) played with purpose. In fact, if it hadn't been for work permit issues, Obinna would be a Premier League player by now as Everton wanted to sign him. On the back of his performance, he was recruited by none other than Jose Mourinho to Inter Milan. He must have seen something in him. What can I say about the team? They were all superb. Dare I mention Kaita who marshalled the midfield so well that he'd give senior team officials sleepless nights as to which player to pick in the holding midfield position? Or the back four that comprised of ball stoppers in the centre and the wing backs of Okonkwo and Adefemi. They were all superb. In fact it gave us lots to ponder as to where we can fit all these boys in at the senior level.
TO READ THE REST OF THE INTERVIEW AND MUCH MUCH MORE JUST REGISTER WITH NEW AFRICAN SOCCER- IT'S ABSOLUTELY FREE! SIGN UP AND YOU'LL GET EXCLUSIVE ACCESS TO THE NAS ARCHIVE WHERE YOU'LL BE ABE TO DOWNLOAD THE LATEST ISSUE OF NAS AND ANY OF OUR BACK ISSUES!