We are always on the lookout for new talent at NAS. So if you're passionate about African football and love to write, get in touch!
ISSUE 10 OUT NOW!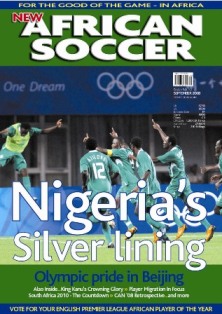 JUST REGISTER TO DOWNLOAD IT FOR FREE!
| | |
| --- | --- |
| Keshi hits out at Malian press | |
Written by Sylvester Awenlimobor
Former Nigerian International defender and Head Coach of the Malian National Soccer team, Stephen Okechukwu Keshi has urged the Malian press to show restraint in the news they spread about his team.

In a press conference, the former Togolese head coach told the pressmen to desist from publicizing news of disunity in his team, stating that this was capable of causing destabilization in the team.

Mali are set to face Chad in their last game of the first group phase of the 2010 World Cup/Nations Cup qualifying campaign, a victory would see them scale through automatically to the next phase, but Keshi has not had it rosy in Mali at all having several verbal clash with Journalists in the Francophone West African country.

Keshi stated that some journalists were unpatriotic and want to see his downfall vis-à-vis the downfall of the team.

"Unfortunately I've discovered that some Malians are not patriotic and do not see anything good in the national team. If the team fails to achieve its goal, it won't be because the players or the technical crew did not put in their 100 percent but because of the attitude of some Malian journalists," The "Big Boss" as he was fondly called during his playing days in Nigeria stated.

Keshi also asked the Journalists to stop comparing him with former French born coach of the team, Francois Jodar.

Keshi was more upset with remarks made by a local radio commentator working for Radio Liberty, who made scathing comments after comparing the Nigerian's period as coach to that of Francois Jodar.

"The guy said Jodar used to organized pre and post game press conferences and lectures. It is not necessary to compare me to Jodar. He is French, I am African," Keshi stated.

Keshi also pointed out clearly that it was the qualification campaign of the Malian team that was at stake and "Keshi" would not be the ultimate loser if Mali fails to qualify but the Malian soccer fans.