PROMOTE YOUR LOCAL FOOTBALL NEWS ON NEW AFRICAN SOCCER... LET THE WORLD KNOW AFRICA LOVES FOOTBALL AND THERE IS A LOT HAPPENING ON THE CONTINENT!
ISSUE 10 OUT NOW!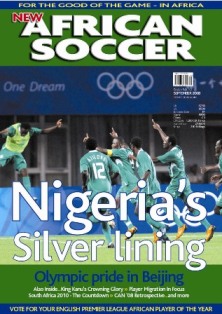 JUST REGISTER TO DOWNLOAD IT FOR FREE!
| | |
| --- | --- |
| ZIMBABWE: PASUWA PSYCHES DEMBARE | |
Written by Administrator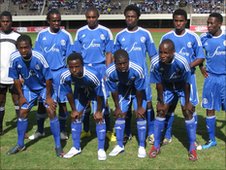 DYNAMOS coach Callisto Pasuwa believes the biggest challenge facing his charges ahead of their Mbada Diamonds Cup assignment is more psychological than technical and has rallied his players to believe in themselves once again.The Mbada Cup holders will resume their onslaught for a possible third straight success in the tournament when they host How Mine in a quarter-final tie at Rufaro on Sunday.
Dynamos have been left feeling the heat after slumping to their heaviest loss on the domestic scene since Pasuwa took over when Hwange handed them a 4-2 defeat in a league clash at the Colliery.
The Harare giants were also far from convincing at Rufaro last Sunday when struggling Monomotapa restricted them to a goalless draw.
Pasuwa believes that the two results had a huge impact on his players whom he said had now "grown accustomed to a culture of winning".
The Warriors assistant coach said some of his players were struggling to come to terms with their surprise slump in form and yesterday, the former Dynamos and Zimbabwe midfielder took time to address his charges after he had taken them through their paces at their Zimphos training ground .
Pasuwa said it was important that Dynamos pick themselves up again and show their character when How Mine, one of only three sides to have beaten them in the league this season, arrive at Rufaro for the Mbada Cup game.
Dynamos have also made no secret of their intention to secure a third straight Mbada Diamonds Cup, which would guarantee that they get to keep the silverware.
But their confidence suffered a huge dent when they failed to win in their last two league assignments and Pasuwa knows that for a team that is still eyeing another double, they cannot afford a slump against How Mine as the Mbada Cup games do not have replays.
Pasuwa also spoke at length about the need for the players to remain focused and demanded concentration throughout the match.
The coach, who looks set to unleash the returning Simba Sithole in the clash against How Mine, also used the opportunity to evaluate their last match against Monoz, and noted that DeMbare often lost their tactical discipline on the pitch while the forwards seemed to lack the necessary confidence to take aim at goal.
Pasuwa said half his team had this week been battling to shake off a bout of flu which they attributed to contrasting weather patterns from the drizzly Chiredzi, where they played Triple B in a Mbada Cup game before travelling to the humid conditions of Hwange three days later.
The 43-year-old coach insisted that once his troops "get their attitude right", they would remain on course for a successful defence of their cup title.
"These are cup games and anything can happen. We have been trying to psyche the team. It is the attitude which the players bring to these small games which is bad and we have to be careful.
"It is a mission. We are saying we need to reach the finals," said Pasuwa.
Pasuwa also noted with pleasure as he had a full squad at his disposal with returning striker -- Sithole -- joining the team for his first session with the Glamour Boys since completing his move on Monday.
It has emerged that Sithole has since received his reverse international clearance from South Africa where he was released by SuperSport United and Dynamos are hoping to clear a few technical aspects related to his registration before possibly handing him his first game against How Mine on Sunday.
Should he be cleared to play, the former CAPS United and Shooting Stars striker would be one of two forwards with the same name as How Mine also have a Simba Sithole on their books.
How Mine's Simba Sithole burst onto the Premiership scene this year following the team's promotion and by that time, the Dynamos Simba Sithole had already left for the Absa Premiership in South Africa.
"Simba is one of the strikers who have been added and maybe offensively we can do better. He is playing very well. But we cannot talk of match fitness when playing small sided games. We can only assess that in a game situation," Pasuwa said.
The DeMbare coach also noted the self-motivational factor that the Mbada Diamonds Cup brings to the domestic game.
"When we approach cup games, everyone would be saying they are fit. The turnout today was perfect. All the 30 registered players attended," Pasuwa said.
His How Mine counterpart Philani "Beefy" Ncube indicated that the Bulawayo side were comfortable with the underdog tag they will carry into the battle.
How Mine lost 3-0 when they visited Dynamos for a league match before upstaging the champions 1-0 in the reverse fixture.
"It is a 50-50 match. We respect Dynamos. They are the defending champions and they have been there before us and we are also many places behind them on the log table.
"All this will work against us. We are the underdogs, but we are ready to take them on. We still have some days to prepare our team.
"Obviously, Dynamos are from Harare and are used to Rufaro, but we are not going to give anything to them on a silver plate," said Ncube.
While the coaches were doing their bit to rally their players for the quarter-finals, three of the last eight teams -- Dynamos, Highlanders and Chicken Inn -- were yesterday understood to have made a desperate bid to the Premier Soccer League to have the massively popular US$1 gate charges for the Mbada Cup games reviewed upwards.
Mbada Diamonds had during the launch of this year's tournament requested to have the entry fees reduced as part of efforts to make the country's richest football tournament accessible to a wider range of fans, a move that was also embraced and lauded by the Ministry of Sports, Arts and Culture.
The diamond miners already cater for the clubs' transport, accommodation, kits and even the players' appearance fees for the tournament and thus the US$1 entry fee will not impact much on the participating teams' coffers.
It has also emerged that the diamond miners chip in to pay the difference in the event that clubs fail to attract enough supporters to meet the costs of ground rentals.
Repeated efforts to get a comment from PSL chief executive Kenny Ndebele were fruitless, while Mbada Diamonds Cup organising committee chairman Tafadzwa Chiremba said he had not received any communication on the mater from the clubs.
"I am yet to receive any communication from the clubs on that matter, maybe they directed it to the PSL, so I cannot comment," Chiremba said.