PROMOTE YOUR LOCAL FOOTBALL NEWS ON NEW AFRICAN SOCCER... LET THE WORLD KNOW AFRICA LOVES FOOTBALL AND THERE IS A LOT HAPPENING ON THE CONTINENT!
| | |
| --- | --- |
| AS REAL TAME LEOPARDS IN DOLISIE | |
Written by Maria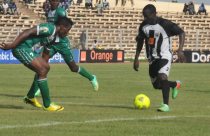 Malian torchbearers, AS Real stunned AC Leopards by beating the latter 2-1 in their Group A Day Four clash on Sunday at their favourite Denis Sassou Nguesso Stadium in Dolisie.
Whilst victory would have been enough to hand Leopards a place at the next round alongside Coton Sport of Cameroon, the Malian visitors ensured the decision on the group's other spot goes the wire.
AS Real survived several onslaughts from the Congolese, winners of the second-tier continental club championship in 2012, to cruise to their maiden victory at the pool stage, which also puts them in a good stead as far as a place for the last four is concerned.
The visitors went up after 33 minutes through Ali Badra Sylla, but the lead will last for only five minutes before Cesaire Gandze leveled for the hosts.
In the second half, it was the Malians who laughed last despite the Congolese having the better of possession. On the hour mark, Souleymane Diarra restored AS Real's lead with a superb shot that beat Leopards goalie Lawrence Ngome.
The hosts raided the Malians area severally but were unlucky in their search for the equalizer. Defender Boris Moubhio was denied by the crossbar whilst Gandze also missed narrowly from a goalmouth scramble in the dying embers.
AS Real now have four points, one point short of AC Leopards whilst Coton Sports are five points clear at the top. Ivorian side, ASEC Mimosas occupies the bottom with two points from four games.