PROMOTE YOUR LOCAL FOOTBALL NEWS ON NEW AFRICAN SOCCER... LET THE WORLD KNOW AFRICA LOVES FOOTBALL AND THERE IS A LOT HAPPENING ON THE CONTINENT!
| | |
| --- | --- |
| HAYATOU SHOCKED AND DISAPPOINTED AT HOOLIGANISM | |
Written by Administrator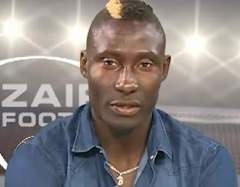 ...........reacts to the death of Cameroonian player Albert Ebosse
The sudden death of 24 year old Cameroonian player, Albert Ebosse, having been struck on the head by an object from the stands after a football match in Algeria has caused ripples down the global football world.
Ebosse was a promising young player, top scorer in the Algerian league last season. He played for his team JS Kabylie and scored in a 2-1 defeat to their city rivals USM Algiers. As they were walking off the pitch, Ebosse was hit by one of the objects being thrown on to the pitch and he died almost instantly.
CAF President and Hall of Fame member Issa Hayatou has expressed shock at the events and the untimely death of the youngster.
In a statement, Hayatou decried the act of hooliganism and violence which ended up cutting down "a young man who enjoyed his job peacefully and went on to pursue his passion for football abroad".
Hayatou said his thoughts and sympathy go to the family and friends of Cameroonian player, all of whom he believes will be shocked and extremely saddened at what happened.
Decrying acts of violence in Africa, Hayatou reiterated "we can not allow African football to become a breeding ground for hooliganism whatsoever. We expect that the authorities will impose exemplary sanctions against this dastardly act of violence" he concluded.
Meanwhile the Algerian Interior Ministry has ordered an immediate enquiry into the incident.