PROMOTE YOUR LOCAL FOOTBALL NEWS ON NEW AFRICAN SOCCER... LET THE WORLD KNOW AFRICA LOVES FOOTBALL AND THERE IS A LOT HAPPENING ON THE CONTINENT!
| | |
| --- | --- |
| KANU THROWS HIS WEIGHT BEHIND AWARDS | |
Written by Maria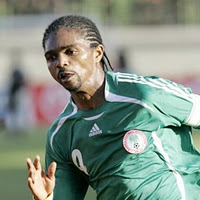 African football legend and one who has graced the English Premier League at the highest level, Kanu Nwankwo, officially lent his support and backing to the initiative of New African Soccer, aimed at giving monthly, and later an annual award to the League's African Players.
Kanu, himself once a player who won many laurels at Arsenal, Portsmouth and played at West Bromwich Albion said "I have no choice but to join this initiative. It is a good programme that will surely inspire our African brothers and spur them to do well" he said.
The two-time African Player of the Year, who also won a Champions League trophy with Ajax Amsterdam also noted the impact of awards and recognition on players. "What any player likes to know is that people appreciate his efforts. It spurs them to want to do more, for their club, their country and in whatever situation they find themselves", he said "No award is too small for any player. To us, it is a mark of honour and we appreciate it all".
Kanu will be using his twitter account to give periodic support to the initiative, while he has also assured that he will love to be in the presentation team for the monthly awards, when available.
Speaking about it, Awards Director and Chief Executive of New African Soccer, 'Tunde Adelakun welcomed the endorsement, "Kanu is a legend, and that is a fact. But what is more, is that he is one who players look up to with inspiration due to how he has lived his life during, and after his playing days", Adelakun said. "It is an absolute honour to have him associate with what we are doing, and we look forward to working with him towards realising the ultimate goal of the awards initiative - which is to provide sound footing for the young upcoming members of the football family.' he concluded.
All through the day, Kanu's twitter account kept retweeting the words "I am supporting New African Soccer in their award for African Player of the Month in the Premier League".