PROMOTE YOUR LOCAL FOOTBALL NEWS ON NEW AFRICAN SOCCER... LET THE WORLD KNOW AFRICA LOVES FOOTBALL AND THERE IS A LOT HAPPENING ON THE CONTINENT!
| | |
| --- | --- |
| OFFICIAL NOW - CHAMPAGNE TO BATTLE BLATTER FOR FIFA HOTSEAT | |
Written by Administrator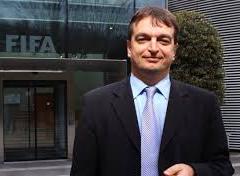 Jerome Champagne, former Deputy General Secretary of FIFA, has announced that he will indeed stand for election next year for the Presidency of the soccer-ruling body.
Champagne, who first spoke about his desire to contest the post a few months back, stated that it was now his desire to run for the post of President, because he believed that FIFA needed a change.
Champagne worked as campaign director for incumbent and current President Sepp Blatter when the latter was to be elected in 1998. From then, he became a staff of FIFA first being named an Assistant Secretary and Head of National Associations. From that position, he managed to consult with and liaise with many member associations in resolving crises and disputes. Notable among the countries whose affairs he handled are Kenya, Ethiopia, Senegal and Poland.
FIFA President Blatter had announced a few days ago that he will definitely stand for a fifth term in office, stating that his mandate might be running out but that his work was not over yet.
It was looking like UEFA President Michel Platini was going to contest against Blatter but Platini recently debunked this claim, stating that he would rather focus on developing the game further in his own constituency - Europe.
Champagne, 56, wants to see a "more democratic FIFA" in future - one that would be "inclusive and receptive to all member associations".