PROMOTE YOUR LOCAL FOOTBALL NEWS ON NEW AFRICAN SOCCER... LET THE WORLD KNOW AFRICA LOVES FOOTBALL AND THERE IS A LOT HAPPENING ON THE CONTINENT!
| | |
| --- | --- |
| AU WANTS CAF TO TAKE BIGGER ROLE IN AFRICA | |
Written by Maria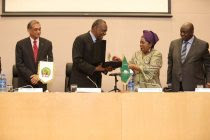 The two-day CAF executive committee meetings which will culminate in the announcement of host countries for the Africa Cup of Nations in 2019 and 2021 got off to a rousing start with a speech from AU Commission president Dr Nkosazana Dlamini-Zuma who hailed the significant impact football had on the continent's development aspirations and well being.

Addressing the CAF executive committee at the AU headquarters in Addis Ababa, Dr Dlamini-Zuma said she was pleased with advancements of the African game which she said were moving alongside major political and economic strides the continent was witnessing.

"Africa is rising and not just economic and political development but football as well," Dr Dlamini-Zuma said adding: "CAF will always play a key role in many challenges confronting Africa and we welcome that contribution from the game."

She cited the bonds football created across many lands, the impact of good physical activities to individuals' healthy lifestyles as well as many other benefits that accrued because of the game.

On fighting the Ebola virus which has afflicted some West African countries, Dr Dlamini-Zuma said CAF and member associations will continue to play a key role in fighting the virus to compliment global and AU efforts to combat it.

The AU chief also drew the attention of the continental soccer governing body to the African Heads of States and governments' vision of "silencing guns in Africa by 2020" stressing that CAF and its member associations would play a key role in attaining that goal.

The AU chairperson said the headquarters in Addis Ababa looked forward to hosting further CAF meetings stressing, "Mr president, we are happy to host you here and we look forward to welcoming you again to our home because this is your home as well."