PROMOTE YOUR LOCAL FOOTBALL NEWS ON NEW AFRICAN SOCCER... LET THE WORLD KNOW AFRICA LOVES FOOTBALL AND THERE IS A LOT HAPPENING ON THE CONTINENT!
| | |
| --- | --- |
| AU EXPRESSES AFRICAN WORLD CUP HOPE | |
Written by Administrator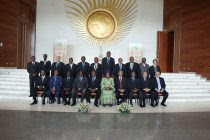 African Union chairperson Dr Nkosana Dlamini-Zuma says African nations should over the next decade work hard and aspire to win the FIFA World Cup.

And CAF president Issa Hayatou says there was nothing stopping African nations from winning the FIFA World Cup in the coming 10 years. The FIFA World Cup over the next decade will be hosted by Russia in 2018 and Qatar in 2022.

Speaking at the opening of the CAF Executive Committee at the AU headquarters in Addis Ababa, Dr Dlamini-Zuma, in hailing the advancements African football had made over the years, said the target for the continent should be have a world champion.

"In the next decade, we cannot host the World Cup, but our target must be to win it," Dr Dlamini Zuma said.

Responding to media questions after Dr Dlamini-Zuma's opening speech, Hayatou echoed the AU chief's sentiments telling gathered media personnel who sought his comment over the hopes of an African team winning that African teams could do it.

"An African team winning the World Cup, of course, why not?" Hayatou said.

The CAF executive committee then sat through presentations made by nations bidding to host the Africa Cup of Nations in 2019 and 2021. Algeria, Cameroon, Côte d'Ivoire, Guinea and Zambia are in the running.

An announcement of winning bids will be made at the AU headquarters at 15:00 GMT.