PROMOTE YOUR LOCAL FOOTBALL NEWS ON NEW AFRICAN SOCCER... LET THE WORLD KNOW AFRICA LOVES FOOTBALL AND THERE IS A LOT HAPPENING ON THE CONTINENT!
| | |
| --- | --- |
| MAME BIRAM DIOUF GETS HIS AWARD | |
Written by Maria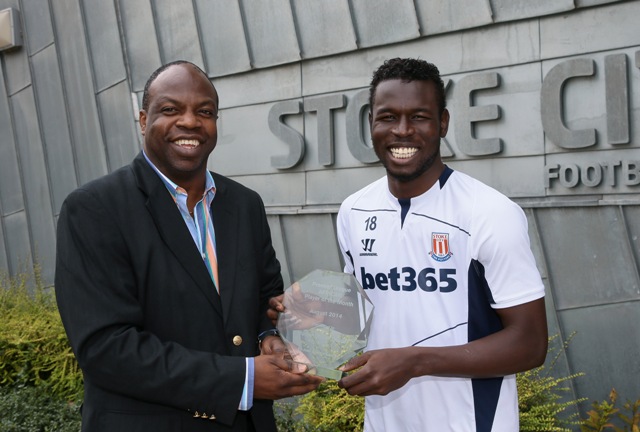 Stoke City's Senegalese striker Mame Biram Diouf received his Premier League African Player of the Month of August this afternoon at a brief ceremony at the Stoke City training ground.
In the ceremony, Diouf, who was evidently elated and honoured at the award expressed his appreciation to voters for choosing him "It is always good to find that people notice and choose to reward you for what you are doing, and it is a great honour to be selected", he said "and I want to thank the people who voted for me".
Diouf, who scored the winning goal against champions Manchester City at the Etihad Stadium in August, expressed belief that his second coming to the English Premier League was one that he finds more fulfilling because, "when I was at Manchester United, I was young and inexperienced, but I got a good chance to learn a lot from the likes of Giggsy (Ryan Giggs), Scholesy (Paul Scholes) and this helped me a lot".
Diouf moved on to Hannover in Germany from where he then returned to England to Stoke and has been in blistering form since.
"It is the reward of the hard work that we have been made to put in the team, and the friendly cooperation between us players," he said. "We have a good feeling of self belief and it is always good to be like that because it makes one to work harder".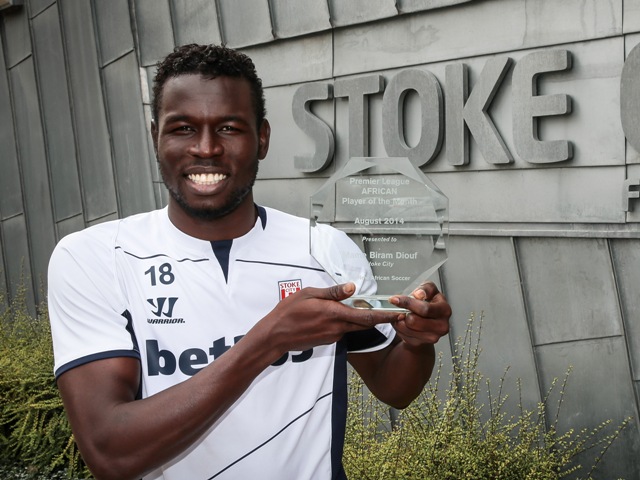 Diouf and fellow African, Nigerian Victor Moses were in sterling form again for the Potters against QPR last weekend, a performance he attributed to excellent cooperation and camaraderie between them, "It is always refreshing to come into a club and find people you can relate with. I always like being with my fellow Africans, whether I play with them or against them", he said. "But to have the likes of Victor and Peter Odemwingie in the team makes it even better, and I always look forward to working with them, and receiving the passes from Victor".
Diouf, who started September as he ended August, again scoring for Senegal in internationals and then netting again for Stoke in the 2-2 draw against QPR lamented the injury that has sidelined Peter Odemwingie but believes he will come back a stronger player.
This weekend marks the final fixtures for the nomination of players for the September edition, and Mame Biram Diouf believes that he can do it again. "I am playing well, and believe that I will be seeing you here again soon", he said, concluding as he walked away with his prize, by saying "see you next week for the September award".
The presentation was done by New African Soccer's Award Director 'Tunde Adelakun.
You can vote for September's EPL African Player of the Month by following and tweeting your nomination to @nasmagazine.
Full coverage of the interview can be seen on the newafricansoccer youtube channel: https://www.youtube.com/watch?v=hDIRHDyjhVo&feature;=youtu.be