We are always on the lookout for new talent at NAS. So if you're passionate about African football and love to write, get in touch!
ISSUE 10 OUT NOW!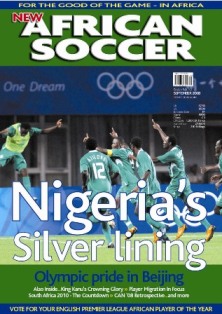 JUST REGISTER TO DOWNLOAD IT FOR FREE!
| | |
| --- | --- |
| Publisher bags key role in England 2018 World Cup bid | |
Written by Jake Brown
The English Bid to host the World Cup in 2018 strengthened its team with the appointment of the Publisher of New African Soccer magazine, Tunde Adelakun as its International Consultant on African matters. Adelakun is expected to assist with liasing with the England Football Association and the 2018 Bid, advising them on how they can make Africans appreciate the benefits that can stem from England hosting the World Cup in 2018.
Eleven countries have bid to host the World Cup, including Spain and Portugal, Russia, USA, Qatar among others. FIFA's Executive Committee is expected to vote on the winning bid in December 2010. Africa holds 4 votes out of the 24 Executive members and they are votes that all candidates will be wanting to win.
Adelakun, an English man but of Nigerian descent, is the brain behind the New African Soccer Group, which operates in all facets of media matters as long as it celebrates African football. He has been a major voice and face of African football on several television networks over the years - including the BBC, Supersport in South Africa. He has been a champion of the African football development cause. He will be expected to use his wide knowledge of the African terrain, of the people who run the game and his media attachments to hit the right buttons as far as Africa is concerned for the England bid.
Another known name in Africa that has been appointed to strengthen the England Bid is Ian Riley, who has been made Director, Technical Bid proposal. Riley is an Englishman based in South Africa, who worked actively in the Bid that has taken the World Cup to South Africa in 2010. Riley runs a broadcast production company in South Africa and is a member of numerous CAF and FIFA Committees.
Jake Brown