PROMOTE YOUR LOCAL FOOTBALL NEWS ON NEW AFRICAN SOCCER... LET THE WORLD KNOW AFRICA LOVES FOOTBALL AND THERE IS A LOT HAPPENING ON THE CONTINENT!
| | |
| --- | --- |
| I will not resign; Boateng not in my plans – Kwesi Appiah | |
Written by Patrick Doamekpor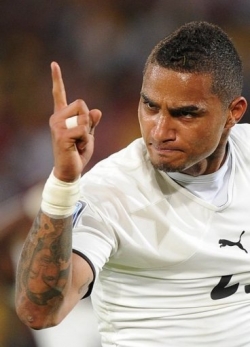 The coach of the Black Stars, Kwesi Appiah, has told reporters that Kevin Prince Boateng is no longer in his plans for the team.

Appiah, speaking at a press conference to address the performance of the Black Stars at the World Cup in Brazil, stated that "he is now concentrating on the players who are disciplined."

Shalke midfielder, Boateng, was suspended from the Black Stars and sacked from the team's camp in Brazil for indiscipline.

The player, allegedly, verbally attacked the coach during the team's training session in Maceio.

Kwesi Appiah told reporters that it was "important to instill discipline into the team."

He added that in doing that, "egos had to be managed, but if it becomes constant and is a threat to the team," changes had to be made.

He said that he was now "focusing on the disciplined players who want to kill themselves for the nation".

This announcement most likely spells the end of a troubled international career for Boateng who had only recently returned to the team after his retirement.