PROMOTE YOUR LOCAL FOOTBALL NEWS ON NEW AFRICAN SOCCER... LET THE WORLD KNOW AFRICA LOVES FOOTBALL AND THERE IS A LOT HAPPENING ON THE CONTINENT!
| | |
| --- | --- |
| FIFA GIVES NIGERIA LONG ROPE .....GIVES THEM TILL SEPT 8 TO RESTORE NORMALCY .....HAYATOU PLAYS A PART | |
Written by Administrator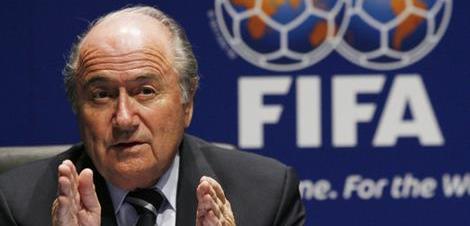 The group claiming to have been elected into the Board of the Nigeria Football Federation, and headed by the 'President' Chris Giwa has been given till 8am European time on Monday 8 September to vacate the office or face an international ban.
In a letter, ironically addressed to the General Secretary of the NFF, Musa Amadu, FIFA General Secretary Jerome Valcke reported that the Emergency Committee of the world football governing body has expressed concern at the events of August 26, where the recognised President of the NFF, Aminu Maigari and Amadu himself were subjected to arrest and detention and a board election was held in their absence. The letter reiterated FIFA's position of the week before that the said election was not in conformity with laid down FIFA statutes and that it will not recognise the office holders that were said to be elected.
FIFA had earlier given an ultimatum of Monday 1st September for Mr Giwa to vacate the office or Nigeria will face the consequences. Giwa, in turn, sought to reply FIFA officially, although it became apparent that he could not send an official response because the General Secretary whose signature was needed to give official seal to the response, Musa Amadu, had refused to be a part of the process and had since abandoned office and gone to a hidden location.
There are unconfirmed reports that Amadu had been threatened with arrest, and that his family had been targeted by security forces trying to seek him out to get him to sign the said response letter from the Giwa group.
CAF President and Hall of Famer Issa Hayatou is a Vice President and member of the Emergency Committee of FIFA and it is thought that he might have played a hand in seeking a further extension of time for Nigeria to get its internal affairs sorted.
Nigeria is the current holder of the Africa Cup of Nations, and the senior team is due to start the defence of the title it won in 2013 with a qualifier against Congo on Saturday 6 September and in South Africa on 10 September. Should Nigeria be banned, it would mean the country will not be defending its title in Morocco in January.
CAF had come out to publicly declare that a suspension for Nigeria will mean that the county will be disqualified from the AFCON defence. And it is believed that Issa Hayatou will be trying everything possible to prevent this from happening, by prevailing on his colleagues in FIFA to give Nigeria a bit more time.