PROMOTE YOUR LOCAL FOOTBALL NEWS ON NEW AFRICAN SOCCER... LET THE WORLD KNOW AFRICA LOVES FOOTBALL AND THERE IS A LOT HAPPENING ON THE CONTINENT!
| | |
| --- | --- |
| KENYA MOTIVATES, PLAYERS APPRECIATE | |
Written by Maria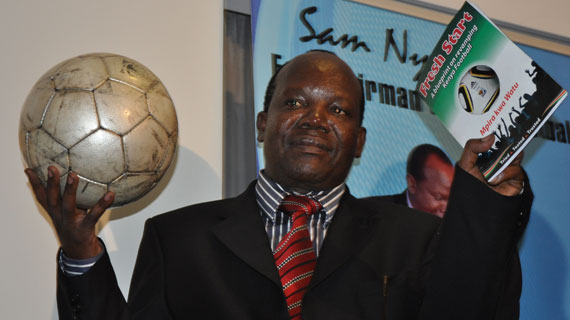 The seeming unity of purpose that exists between the Football Kenya Federation and the government of Kenya seems to be paying dividend by the day with the FKF redeeming it's pledge to pay players' allowances in advance of their crucial Nations Cup qualifier against Lesotho.
At a time when the continent of Africa is just recovering from the fallouts of players protesting against lack of payment during the World Cup in Brazil, the Kenyan federation doled out 2.6 million Kenyan Shillings (around US$30,000) to settle allowances owed the players for their camping in games against Comoros and Lesotho.
It was the response to the gesture that was eye catching, as players came forward to speak publicly about how unprecedented the move was. Veteran Harambee Star Jamal Mohamed said "I've been involved in this national team for so long and have seen many instances where we players will leave empty handed with promises to pay our allowances later. This has all changed and we need to commend the government of Kenya and the leadership of the FKF for doing this".
Many players showered encomium on the FKF led by Sam Nyamweya and stated that it was impossible not to want to give their all for an appreciative federation.
Despite it not an official FIFA date, the turnout of the players for the Lesotho has been impressive with the Stars top players managing to secure release from their clubs to honour the game. Victor Wanyama leads the team, with his brother McDonald Mariga and a host of other foreign based pros, to be reinforced by the arrival of star striker Dennis Oliech in time for the match.
Sam Nyamweya, FKF President said "these players are very important to us. We can not underestimate what they are doing to the development of the Kenyan society and hence no price is too much to pay to get them motivated, and that's also why government is keen to continue to back us".
"We are together, united in our desire to move this country to the next level. And that journey starts with today's match", Nyamweya concluded.