PROMOTE YOUR LOCAL FOOTBALL NEWS ON NEW AFRICAN SOCCER... LET THE WORLD KNOW AFRICA LOVES FOOTBALL AND THERE IS A LOT HAPPENING ON THE CONTINENT!
ISSUE 10 OUT NOW!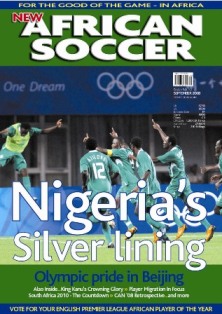 JUST REGISTER TO DOWNLOAD IT FOR FREE!
Tag: Ransford
2009.02.22 14:04:45

Hiral

Ghana's victory at the African Youth Championships was hardly a surprise considering the nations pedigree at youth tournaments for the last 15 years. And it was a true delight to see Ransford Osei once again star, showing his lethal combination of pace, power and effortlessly crisp finishing. The latter is of particular interest, Osei seems to be blessed with the same arctic coolness in front of goal that has made Samuel Eto'o arguably the world best player. Osei was simply superb at the last World U20 championships and looks to have pressed on with his footballing development since that tournament. Osei is by no means the only great prospect in the Ghana youth team. Fellow striker Sadick Adams is also a wonderful talent as is Real Madrid based right back Dan Opare, but Osei definitely looks to be something special. The road to stardom is long and fraught with difficulty, but hopes are high for Osei.