PROMOTE YOUR LOCAL FOOTBALL NEWS ON NEW AFRICAN SOCCER... LET THE WORLD KNOW AFRICA LOVES FOOTBALL AND THERE IS A LOT HAPPENING ON THE CONTINENT!
ISSUE 10 OUT NOW!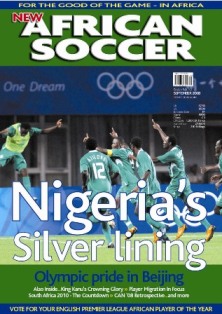 JUST REGISTER TO DOWNLOAD IT FOR FREE!
On this week's round up we look at some of the action from the final round of games in the second phase of qualifying for the Nations Cup and World Cup, Wigan's Amr Zaki scores an anbsolute cracker against high-flying Liverpool, and Seb Blatter discusses South Africa's preperations for the World Cup

BLATTER ON SOUTH AFRICA 2010

President of FIFA, Seb Blatter, talks to CNN about South Africa's prepartions for the 2010 World Cup.
In this weeks round up- an absolute scorcher in South Africa, a look at some of Africa's finest goals at the World Cup and the irresistible Adebayor.


SCREAMING GOAL!



An absolute scorcher from the South African Premier League last week. Luntu Manzana scoring against his old club as Bay United beat Orlando Pirates 2-0.
Football in Africa: Conflict, Conciliation and Community

Richard Giulianotti (Editor) & Gary Armstrong (Editor)
 

This groundbreaking collection provides the first detailed social analysis of football within Africa. The book features case study essays that draw heavily on detailed fieldwork to examine the distinctive football cultures that have grown up in African communities. The book should be compulsory reading, for social scientists in sport studies and African studies, and for informed football followers everywhere.





This book is available to buy

here

.
This round-up we take a look at the silky skills of Pascal Feindouno, see why Amr Zaki is making a big impact in the Premier League and look back to 1972 final of the African Nations Cup between Mali and Congo.

FRENCH SAY FAREWELL TO FEINDOUNO

   

 Guinea midfielder Pascal Feindouno has left La Ligue and St Etienne after his controversial transfer to Quatari side Al Sadd eventually went through. Initially the French side was furious claiming that despite never agreeing to the transfer Feindouno had signed a contract with the Quatari side. They ordered Feindouno to return but after he refused the clubs managed to agree a deal. Despite his acrimonious exit with skills like these France will sorely miss this mercurial talent.
The First Black Footballer: Arthur Wharton, 1865-1930 - An Absence of Memory

Phil Vasili

A biography of the world's first black professional footballer, set in the cultural and political context of Victorian England. Offers new insight into the onset of sport professionalism, the class divide and the roots of institutionalized racism.

Arthur Wharton was the world's first black professional footballer. He was also the first 100 yards world record holder and twice amateur sprint champion of Britain. He came from a wealthy Gold Coast/Ghanaian family, enjoyed national celebrity in England as an all-round athlete, but died a pauper in a South Yorkshire pit village. Recounted within the social, cultural and political context of Victorian England, Wharton's story not only remembers the turbulent personal and professional life of an eminent sportsman but offers fresh insight into the onset of professionalism in British sport, the class divide and the beginnings of institutionalized racism. The author is collaborating with Irvine Welsh on a dramatization of Wharton's life which Channel 4 will broadcast next year.

This book is available to buy here.
Soccer and Disaster: International Perspectives

Paul Darby, Martin Johnes, and Gavin Mellor

A sending off, the conceding of a vital goal, an untimely defeat: disaster is a much used term in sport.  Yet soccer has also been the victim of real disasters: events where people lost their lives.  When compared to tragedies such as the Munich air disaster and the Heysel stadium disaster, the results of games become insignificant.  Football is not more important than life and death.

This book looks at soccer disasters from across the globe.  From the loss of talented young players in air crashes in Munich and Zambia to fatal overcrowding in South Africa, Moscow, and the UK, the game and its fans and players have been the victims of negligence, complacency and misfortune.  The causes, consequences and legacies of these and other disasters are explored here in a book that reveals frightening parallels and important lessons.

This book is available to buy here.
Africa, Football & FIFA: Politics Colonialism & Resistance


Paul Darby  

 

The emblem of the Federation Internationale de Football Association (FIFA) is claimed to symbolise a 'global fraternity united in sport'. However, the relationship between FIFA and the Confédération Africaine de Football (CAF) has been underpinned by anything but fraternity.

 

This book explores the development of African football within the context of FIFA. The relationship between the world body's core European members and its expanding African constituency during the colonial period is given detailed treatment. This demonstrates that the game not only functioned as a form of resistance against European colonialism but also made a practical contribution to the movements for independence.

 

The subsequent development of African football has been such that the continent is no longer on the periphery of the world game. This is apparent not only on the field of play but also within the world football's corridors of power. However, as Paul Darby demonstrates convincingly, economic inequalities between the first and the third world seriously restrict the development of African football and continue to hinder its advance within the world game.

 

| | |
| --- | --- |
| | |