We are always on the lookout for new talent at NAS. So if you're passionate about African football and love to write, get in touch!
ISSUE 10 OUT NOW!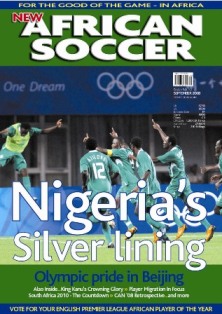 JUST REGISTER TO DOWNLOAD IT FOR FREE!
Tag: CAN1972
This round-up we take a look at the silky skills of Pascal Feindouno, see why Amr Zaki is making a big impact in the Premier League and look back to 1972 final of the African Nations Cup between Mali and Congo.

FRENCH SAY FAREWELL TO FEINDOUNO

   

 Guinea midfielder Pascal Feindouno has left La Ligue and St Etienne after his controversial transfer to Quatari side Al Sadd eventually went through. Initially the French side was furious claiming that despite never agreeing to the transfer Feindouno had signed a contract with the Quatari side. They ordered Feindouno to return but after he refused the clubs managed to agree a deal. Despite his acrimonious exit with skills like these France will sorely miss this mercurial talent.