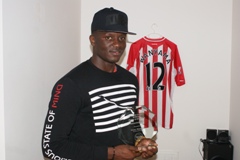 "IT'S AN INSPIRATION"

Southampton FC midfielder and captain of Harambee Stars of Kenya, Victor Wanyama was presented with his Premier League African Player of the Month of September in a brief ceremony Thursday.
The presentation was done by the CEO of New African Soccer, 'Tunde Adelakun.
Wanyama was voted EPL African Player of the Month of September for the part he played in Southampton FC's bright start to the season, which saw them rise to second place in the table, at the time.
The Kenyan star, receiving the award, expressed delight at winning, saying it was an honour to find that his modest work was noticed and appreciated by African folk.
"It is wonderful", he said, "being recognised as someone who has done well for his club. It came as a surprise, but a very pleasant one, and it can only inspire me to do even better, because I surely want more of these in my cabinet".
Wanyama started October still in good form, returning from the international break to come off the bench and score again in the 8-0 routing of Sunderland.
"It is a great feeling at the club. I was worried when we were losing most of our top players in the summer, and was always wondering whether I should also move," he went further "but I stayed, and the manager came in and gave us great belief in ourselves. He made us work well, and gave our midfield the freedom to express ourselves and move freely. This made a big change to our mentality and that is what we are enjoying now".
Currently sitting third in the Premier League table, Wanyama is aware that it will be hard to stay there till the end of the season "It will be tough," he said, "but we are working hard, and we believe in ourselves, so it is not impossible".
The Man of the Month went on to extol the virtues of African players who inspired people like him to want to perform in the Premier League. "The Premier League has turned out great African players; players I always look up to - like Michael Essien, Kanu Nwankwo, JayJay Okocha among others, and it will be great for people to talk about me in future the way we are talking about them today".
In a brief response, CEO and Director of New African Soccer Awards, Tunde Adelakun praised the humility of Victor Wanyama and said the sky was the limit for any player who respected his roots and appreciated little things.
"Wanyama is one of the reasons we set up this award programme," Adelakun said "and it pleases us that so far, the reaction of our players to it have encouraged us to continue with it".
Adelakun expressed hope that people will collectively continue to support the initiative, because there is nothing better than appreciating and rewarding players, and thus giving them the motivation to even do more in future.
"It has been great so far," he said "but some forces have tried to undermine what we are trying to do. We do remain steadfast though, in our resolve to honour our greats who have contributed in no small way to making football what it is today - a truly global entertaining game".