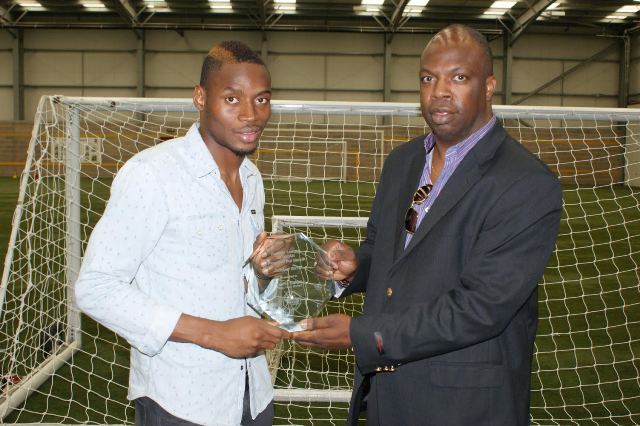 West Ham United's Senegalese striker Diafra Sakho received his English Premier League African Player of the Month award on Thursday, full of delight.
The player, who was also in the nomination shortlist for the Barclays overall Player of the Month for the Premier League could not hide his delight and appreciation for how well he has been received since he came to England.
"It is an absolute honour for me", he said "coming in to England and winning awards like this. I want to thank all those who voted for me and can only hope that it will be the first of many awards that I will win with this great team - West Ham".
Sakho won the October award ahead of team mate Alex Song and Swansea City's Wilfried Bony who were both on the shortlist alongside him, but he attributed his performance to everyone who supported him.
"It was just not my award, everyone contributed to it. I wouldn't have achieved it without my team mates, and it is to the credit of West Ham that I won this. I just hope we can continue to produce results that would be encouraging for all", he said. 
Sakho expressed surprise at how easily he adapted to life in the Premier League, but said it had to be down to many factors. "The staff here at West Ham made it easy for me, but I can't forget the people at Metz in France too, who must have prepared me mentally for life in England. It is going so well and I can't be happier".
Speaking to New African Soccer Awards Director Tunde Adelakun earlier, West Ham manager Sam Allardyce said Sakho has done "better than just fine" in settling into the game in England.
"He has come in and done what was expected of him, and even more, and it is great to see him at work. He is a pleasure to work with and we have given all the support he needs to succeed even more". Allardyce said.
But he was not unaware of the fact that his star player will be a marked man soon. "With the goals he is scoring, I am sure that very soon, he will become a marked man as clubs will aim to do everything to stop him scoring. We know that time will come - in fact it is around the corner - and we just hope he will have the strength to cope with it and continue to excel" Big Sam said.
The manager of West Ham, occupying fourth place in the Premier League spoke about missing players like Sakho and Alex Song to the forthcoming Africa Cup of Nations, saying it is something they will have to contend with and not complain about.
"It is something I have had to deal with for 12-13 years, a fact that is unavoidable, and we always know that when we buy talent that is African, there was always going to be the possibility of losing them to the Cup of Nations in Africa in January every other year. It is a fact and we just get on with it" he said.