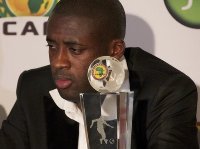 Manchester City's Ivorienne maestro Yaya Toure has been named the English Premier league's African Player of the Month of November.
In a statement by organisers New African Soccer, through the Awards Director Tunde Adelakun, November was one of the most keenly contested months in the short life of the Awards and Toure just about deservedly nicked it.
"We had many votes - rather unprecedented so far in the short lifespan of the Awards" Adelakun said. "It was close. Wilfried Bony of Swasea City ran Yaya really close. In fact it was neck-on-neck all the way till the end".
Toure had been shortlisted, only for the first time this season, alongside fellow Ivorienne Wilfried Bony of Swansea City and Crystal Palace's DR Congo star Yannick Bolasie.
"At the end, we had to combine a few factors in determining the eventual winner. Yaya Toure, who had endured a somewhat difficult start to the season has been slowly rediscovering his old form", Adelakun explained, continuing by saying, "and in November, he played all 90 minutes of every one of Manchester City's four games that month, making valuable contributions along the way".
It will be recalled that Toure scored the winner in the 2-1 comeback win against Bony's Swansea City, and followed it up with the curtain raiser in the 3-0 mauling of Southampton in the last game of the month.
Adelakun expressed delight at the level of involvement of African football followers and pledged that, regardless of the challenges, the Awards have come to stay an, in his words, "we will continue to honour, recognise and celebrate the best of Africa worldwide, and hence give inspiration to the younger ones coming up".
The Award will be presented to Toure in a short ceremony very soon.