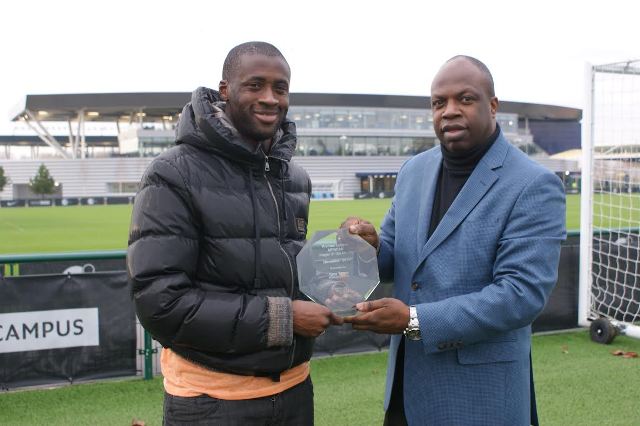 Manchester City's Ivory Coast star Yaya Toure was given his award trophy for winning the votes for the November African Player of the Month in the English Premier League, and he was full of joy.
At the brief presentation at City's new 80-acre training facility opposite the Etihad Stadium, Toure expressed happiness at being voted man of the month.
"It's a great feeling to know that people out there recognise what I am doing and are happy for it. I am honoured by this, and I feel fulfilled that I am doing what I can to make people happy".
Toure got the votes ahead of fellow Ivorian, Swansea City's Wilfried Bony and Crystal Palace's Yannick Bolasie but he was quick to extol the virtues of all players from Africa in the Premier League.
"The awards are great, but it is also a reminder of where we all come from. The leagues in Europe are not easy for many of us who come from Africa, and it is a credit to all my fellow brothers who came here and are getting first team football, because we all know its not easy.
"There is no small award in football, not in my book; as it shows that I am doing something right. What some of us more fortunate ones can get from our lives is the knowledge and satisfaction that we are making people happy, and I am glad that we are achieving this".
Speaking about the defence of the Premier League title, Toure said "It won't be easy, because we know Chelsea is a team playing some great football, but we will give it a good shot and hope for the best".
Manchester City will be missing Toure when he goes for the Africa Cup of Nations in January and he was quick to say that he believes that his team has enough quality to cope while he is away, and that his focus at the time will be on trying to break the jinx and win the African Cup with the Ivory Coast team.
"Again, it will be difficult because all teams out there are good and worthy winners. We will have to fight hard and give a bit of extra and match the big boys - we have Ghana, Algeria, Senegal and many other big teams - pity that Nigeria is missing out - but as the saying goes, to win trophies, you have to beat the big teams, and that is what we hope we can do, insha Allah", he concluded.
The award was presented by New African Soccer's CEO and Awards Director, 'Tunde Adelakun, and the winner was full of admiration for the trophy "It is really good, I like it, and will be proud to add it with the decorations in my house". he said.