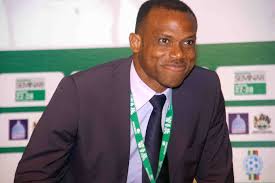 I've chosen an appropriate day to put this out, given the name of my subject of discourse today.
Two weeks ago in Vancouver, while enjoying the final of the Women's World Cup, I met with the man I love to call my friend and boss - Nigeria Football Federation President Amaju Melvin Pinnick.
Given my friendship with AMP, we tend to spend quite a bit of time together always talking Nigerian football and one of the times, he informed me of the recommendation and ratification of the decision of the NFF Disciplinary Committee to relieve erstwhile head coach of Nigeria, Stephen Keshi of his position.
Now this did not come to me as much of a surprise. I never made a secret of my views, as far back as in October last year, that the NFF/Keshi association had expired and that any continuation of the alliance was just a time bomb waiting to explode.
This was not borne out of taking sides. I like to think that, since Stephen Keshi started his foray in coaching, in Togo, Mali and even with the Nigerian team, I got on very well with him, and regard him as a hero of African football. I think he was pivotal in leading the exodus, or at least encouraging the exodus of African players to European leagues in the mid 1980s, which opened the floodgates of Europe to our boys, and hence brought about improved fortunes to persons and football nations alike.
I had no hand in him being re-hired by the NFF last year, nor did I have a hand in his removal in July this year. But I know that his time with the NFF had reached a point where a parting of ways was the best way forward.
When this did not happen in October last year, we all saw the result. Nigeria did not make it to the Africa Cup of Nations this year, and has been on a downward spiral on the much controversial, but only means of ranking teams to date, the FIFA rankings.
Amaju Pinnick informed me of the decision, and also told me that he was now looking for a coach to take Nigeria forward. He did hint me that his colleagues back in Nigeria were looking at, and talking up ex-international midfielder, Sunday Oliseh, to take over the reins of management of the Super Eagles.
Let me make it clear that I personally asked questions on the rationale behind this clamour. I told AMP that Sunny has all the qualifications, agreed; but has no experience of coaching. I told him that he may be a pretty face on TV, an articulate analyst loved by both FIFA and CAF, but can he bring it to bear on the field?
I asked questions. I asked about how Sunny appeared to me to be an arrogant person who tended to look down on people when he was playing. I personally had a slight altercation with him in 2001 when Nigeria was struggling to qualify for the 2002 World Cup, then languishing in 3rd place in our group, behind Liberia and Ghana!
I also heard later, in and around 2009/2011, how Sunny was offered the chance to join the Nigerian coaching setup as an assistant to the then Super Eagles coach, or take over one of the age group teams. I was told that he "walked out" on the powers of the NFF at the time, insisting that it was either the top job or nothing for him. This claim was never refuted but I certainly was not physically present at the meetings.
I warned AMP that there was a possibility of setting a dangerous precedent for our football culture, which could be translated to mean, "the best way to the job of your dreams will be to be rude and arrogant to your superiors and you will get it".
But I also had some memories of Sunday Oliseh the true Nigerian.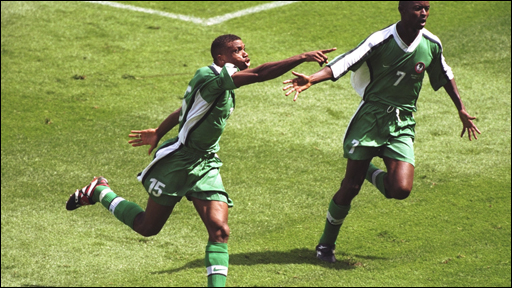 Who can forget the brilliant goal he scored for Nigeria in the World Cup in 1998 in France, the one that gave the Eagles a famous 3-2 win over Spain, one of Nigeria's proudest World Cup moments? It was a screamer, and well worth a few good looks even till this day.
I also remember Sunny the fully patriotic Nigerian, who, one day in Freetown, en route to qualification for the 2002 World Cup, showed so much passion and commitment, almost shedding tears for Nigeria as administrative flaws threatened the Eagles' appearance in a match against Sierra Leone. It was a match Nigeria lost 1-0 on the day, but I won't forget how it bothered Sunny before and after the match.
It showed that there were two sides to any person, and I had seen both ends.
AMP thought to give this young man a chance, met with him and invited him to come to Nigeria and talk to his Technical Committee. They were convinced, and he signed a contract.
He went to Abuja, and, as he is wont to do, mesmerised people with his presentation, his articulate answers, and his setting out of a plan on how to revamp Nigerian football fortunes. He was good, a good talker, a good planner, and you couldn't but be impressed by him.
Oliseh is an example of what African football needs more of. People who can hold their own, express themselves freely but clearly; a new breed of football players who are not drop-outs from school; a coach of Nigeria that we won't need to worry if he has no one in his company when talking to international media as he knows what to say, and how to say it.
Sunny certainly talked the talk, no doubt about that. But will he walk the walk?
The comments have started. Every ex international who had access to a media man has given his verdict on whether the NFF did right or wrong hiring him. People have referred to his comments and picked holes in them. Some question his utterances at not giving a chance to players who are not playing first team football for their clubs. Some have questioned his bringing a foreign assistant. Lots have been said.
I had my say when I was with the NFF President in Vancouver. I am not ashamed to say that I had more questions than most. Because I care; because I want the best for African football; because I am a very strong and loud advocate for the development of more indigenous African coaches, career coaches who will readily embrace the scientific modernisation of the game. So yes I asked questions. You could even say I objected at first.
But I care. And when it was clear that the decision has been made, I did what anyone who genuinely cares would do - support it.
How will Sunny Oliseh turn around the fortunes of Nigerian football? How can he ensure that the country does not miss out on a second Africa Cup of Nations appearance in a row? How can he ensure a smooth transition of Nigerian youth players to graduate to the senior team? How can he set the pace for other young African coaches, ex players who want to take up coaching, to actually take it up and make a success of it?
Eventually, Africa needs to stop automatically turning to Europe to find coaches for our national teams. Our youngsters like Sunny should put themselves in with a chance to do it and must be given a fair hearing. That's what I admire in what was done in Nigeria. That's why I had to accept the decision to employ him.
In a few weeks, Nigeria's qualification campaign for AFCON 2017 resumes. Oliseh is in the driving seat. Whatever anyone thinks about the appointment, it has been done. And we now have to support it.
Oliseh is now a symbol of the African young coach. He is an ambassador of local indigenous involvement in coaching national teams in Africa. It goes beyond Nigeria. Africa needs its own coaches. Coaches that know the terrain of Africa, coaches that know the mentality and culture of the African player.
Oliseh has shown that you can learn and educate yourself to as high a level as you want to. And Amaju Melvin Pinnick and his NFF have shown the way to other African federations that these men should be given a chance. It is a gamble, a massive one.
If it pays off, NFF will be vindicated. For the sake of vindication, I pray that it does pay off. I hope that he gets results, and makes positive impact on Nigerian football, enough to make people see that it was right to give him the chance.
But even if doesn't pay off on this occasion, it shouldn't reduce the level of vindication. Because ultimately, Africa still needs its own coaches. And we will not always get it right, but where in this world is it perfect?