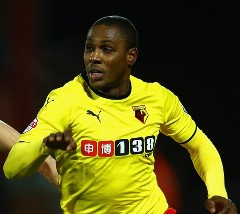 Watford FC striker, Nigerian Odion Ighalo was today unanimously given the award of Premier League's African Player of the month of December. 
In a release put out by award organisers, New African Soccer, Ighalo was so overwhelming in his performance and reviews that there was "very little need for a shortlist to be announced".
Award Director Tunde Adelakun said in the statement, "Ighalo spent December scoring goals for his team. He scored in all six games played in a packed December schedule of fixtures, including games against Chelsea, Liverpool and Tottenham. This is a very remarkable feat"
Adelakun went on to confirm that in the short lifespan of the New African Soccer awards, Ighalo becomes the first player who has won the monthly award twice in one season. It will be recalled that he also won the October award.
His award will be presented to him in the coming days.