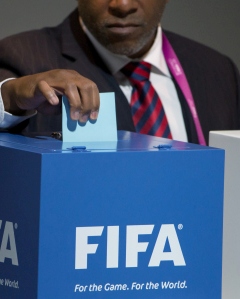 In a few weeks, we will all converge in Zurich, Switzerland, for an extra-ordinary congress of FIFA, where we will witness the 'election' of a new leader for world football – a new FIFA President.
Sounds really strange to me, to be talking about a FIFA President that does not involve the name of Sepp Blatter. For most of my working life in the game, FIFA President has been synonymous with the name Blatter. Anyway, life goes on, and a new one will be 'elected' on the 26th.
Some will be in Zurich as observers; others reporting the events (media); many will be 'guests' of the various governing bodies.
But mainly, there will be 209 Presidents of the various federations and national associations, supported by their General Secretaries and advisers – and these are the 'voters' – the real members of Congress on whose shoulders lie the task of 'electing' that new President for football's governing body.
It might be observed that the words 'vote', 'election', etc have been used so far with quotation marks in them. These are words that are symbolic of true democracy – an exercise that is guided by the free will of the electorate to choose their leaders.
FIFA has been a subscriber to the charter of democracy. The election years that have seen the only President I witnessed being elected, him staving off challenges, as well as the processes that brought in members of the executive committee of FIFA over the years, have been democratic. To the best of my knowledge, these have been founded on the basis of each member association, through their President or designated authority, casting his or her vote to select their choice.
Democracy is simple. Election is a success if it is democratic. If it is not democratic, then it is no election. But I am asking, in the weeks leading up to the 26 February date, are we about to witness a democratic election or a selection process?
I have watched, over the last week or so, how football associations, bodies, federations and confederations have come out to either declare publicly, their intention to vote for, or their agenda to discuss ad decide on who to vote for, of the candidates, ahead of the 'election'.
Germany, France, Italy, Norway are among those nations who have publicly and openly declared their hands; England have a date sometime in the next week or so when they will meet and openly declare who they are supporting. COMMEBOL, the South American confederation stated that they will unanimously back one candidate. The African confederation (CAF) should be making its big announcement anytime from now.
So to me, democracy has taken a different turn. We can all know who has the lead well ahead of the 'election'. It is all a game of numbers. This is not polling (as in opinion polls); this is open voting in a secret ballot process. And that is worrying.
It is no longer democratic when people are declaring where they will vote without due consideration for other candidates. It is no longer a 'secret ballot election' when voting parties openly state, weeks prior to election, where they will cast their votes.
If the process ends up selecting the person that will give football a renewed, pleasant and credible image, then that is great. All we want is a clean sport, that gives room for progress across the board, accountability and equality.
If the confederations make unanimous decisions that all their members are happy with, and the decision is not enforced on members who might have dissenting/differing views on the choice, thus still allowing members to make their choice, then it is fine.
The key thing is to ensure that the process that brings in the next leader for our football is truly democratic.
Football is in crisis. Anyone who says this is not the case is basically not being honest. And we need a new image. That new image and confidence in bringing change must start from the process that brings in the person to steer that ship.
I hope my brothers…and sister, who will do the voting will exercise caution and vote wisely.
From the African perspective, I hope our leaders will vote for that person of the five, who will give us fairness, progress, inclusivity and pride in our sport.  Football needs a leader that will give equality on the pitch, off it, and a platform to realise and explore further, the massive potential that African football has.