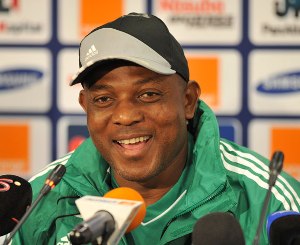 Although I want him to rest in peace, I refuse to use the hashtag #RIP to the name of Stephen Keshi. Rather, I want to use my own catchphrase #KeshiImpact.
I use #KeshiImpact for obvious reasons. Stephen Keshi made a big impact in his short 54 years on earth. Many have lived longer, who are still living, and some who are no more; and they did not manage to make the impact that Keshi made in his own life.
I grew up knowing about Keshi. He played when he and his teammates at New Nigerian Bank FC of Benin tormented my beloved IICC Shooting Stars in the mid 1980s. I wasn't a fan of his then, because NNB always spoilt the perfect home record that Shooting Stars had at the then Liberty Stadium.
Then he became a member of the Nigerian national team, and I had no choice but to be his fan, because he played for my country. He served Nigeria as a player meritoriously; played with his heart, defended with confidence and gave a meaning to what youngsters of nowadays now call 'the swagger'. The way he thrust his chest forward and then bounce was very unique to his person.
In 1994 he won the Africa Cup of Nations as captain of Nigeria; and led the country to its first ever World Cup campaign in the USA in 1994 where they earned the accolade of '2nd most entertaining team of the tournament' despite crashing out in the round of 16.
When we talk about impact though, we remember the feat above but sometimes lose sight of some hidden facts that are salient today.
I recall that sometime in the early-mid 1980s, Stephen Keshi got mixed up in a struggle with the Nigerian football authorities, over his attitude to his being called to camp for the Nigerian national team. It was Keshi and a few of his NNB teammates that were reprimanded for reporting late to camp. They were then banned by the then Nigerian FA from playing football in Nigeria for a specified period of time.
Someone, somewhere then advised Keshi that if he was banned in Nigeria, surely he was not banned from playing elsewhere. And they took it upon themselves to break ground and found a way out in Ivory Coast, where Stade d'Abidjan took a gamble and signed him.
He was one of Nigeria's pioneering footballers who pursued a playing career abroad, as an export; and his move to Stade d'Abidjan was the beginning of something big.
He was an instant hit in Stade d'Abidjan and they couldn't hold on to him longer than one year when the big money spinners of Ivory Coast football at the time, Africa Sports, came calling. He was there for a year, then it all blossomed. Rather than return to Nigeria after his ban was lifted, he was scouted and taken to Belgium – Lokeren first, then Anderlecht.
We all know Keshi's history. But truth is, maybe Nigerian players would have started exporting talent inevitably at some point; it remains to Keshi's credit that he opened the floodgate of players seeking the golden fleece in countries abroad, following his ban by the NFA which could now be seen as a blessing in disguise.
Keshi encouraged young players to follow in his footsteps and travel abroad to play. Players like Nii Odartey Lamptey of Ghana, and Nigerian young sensation of his time – Philip Osondu – will attest to this. He did all he could to support players who were coming up, and he did so very well.
As many like him did, Keshi finished playing and took up coaching. He joined Nigeria in assistant coach capacity for a few spells; and then landed a big one. He was appointed as national coach of Togo in 2004. It was a big gamble taken by the Togolese FA but one which paid off as Keshi led Togo to qualifying for the Africa Cup of Nations for the first time in a long time (2006) and qualified for the World Cup (Germany 2006) for the first time ever.
It was a mean feat, and was solely to the credit of Stephen Keshi and the work he did, which I was physical witness to, having had cause to visit him in Togo on more than one occasion during his time there.
He was to return to Togo for no less than two other spells, as his name always reverberated in the tiny country when coaching issues came up.
He was in Mali too, as coach, and I will never forget the pride I felt when his team, in the opening game of the 2010 Africa Cup of Nations in Angola, looked dead and buried 4-0 down with 10 minutes to go sparked an unlikely comeback. Goals from Keita and Kanoute were supposed to put respectability in the scoreline, but his boys were not done yet. In the 93rd and 94th minutes, two further goals were scored and Mali earned a stunning 4-4 draw from that game.
It was a Keshi game, and the world applauded him for that feat.
Then he returned to Nigeria as head coach. The less said about it, the better; and not many will absolve themselves of blame or questions when it comes to his treatment in the latter days of his reign.
But to his credit, he won the Africa Cup of Nations in 2013 – only the second man to win it as both player and coach; and took Nigeria to the World Cup in 2014 – the first African indigenous coach to take his team beyond the group stages.
The job of a coach can be frustrating sometimes, and when it is not going well for you, daggers are swiftly drawn and judgement is passed too quickly. His unceremonious departure from Nigeria is testament to that, but it does not diminish the impact he made on Nigerian, and African football.
As the tributes pour in, let us remember Stephen Keshi for what he achieved. Let us acknowledge the impact he made on many a life – across Africa; in Togo, in Mali, in South Africa and in his native Nigeria. And what about the players who benefitted from his bravery at going out to seek fame in Europe? The players he helped, nurtured, brought to the limelight?
I did a very big piece on Keshi just prior to the start of the 2014 World Cup, in the New African Soccer magazine; and when I presented it to him, I told him that his life was worthy of putting down in book form, like a biography. He smiled and said 'Tunsco, you're right. Let us finish in Brazil and we can discuss'.
Then I met up with him in April 2015 – the last time I saw him – at the signing of the Nike sponsorship contract with the Nigerian FA, and I raised it with him again. He said 'later'.
But I will not forget that, in spite of his tight schedule on that day in London, a group of journalists asked me to help convince him to grant them an interview; and he, in personal recognition of the friendship we had, acceded to the request. I will remember that for a long time.
Isn't it ironic that the young man who excitedly took on the task of interviewing Keshi on that day, also succumbed to a cardiac arrest only a few months later? Life!
Keshi's life was not a sad life. It was a life of impact. May his soul rest in perfect peace. #KeshiImpact. #Respect.