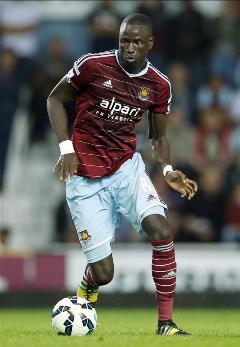 West Ham's Senegalese midfielder Cheikhou Kouyate has been named February's African Player of the Month in the English Premier League. 
A statement by the organisers, New African Soccer, announced the award and spoke of the high interest and competition amongst the three fore runners who made the shortlist.
Awards Director, Tunde Adelakun said "It was a really tough decision. February was a short month but with lots of activity; and every player in the shortlist played a part in making it a big one for Africans".
"But Kouyate stood out; putting in a solid performance in the heart of the West Ham midfield all month, and scoring some important goals as well. He even effectively played in a centre back role against Manchester United, which made him a good all-rounder in the month. I think he just about edged it, and many of our followers were in agreement".
Nigeria's West Brom striker Brown Ideye was in the shortlist; and he missed out, only just, according to Adelakun. "Ideye was good in February. The media had started vilifying him, calling him a flop based on his lack of goals when he made his record-breaking move to the Hawthorns. But he came good in late January/early February and seemed to rediscover his scoring boots, which is good". Adelakun said he probably missed out based on the fact that his performances were good across both the League and the FA Cup, and seeing as the Award was only league based, Ideye lost out on that basis.
"Brown is a good player though, and we can see him getting back to his best in the coming months", Adelakun said. "A Nigeria call-up for the March friendlies will do him a world of good".
Another player who missed out was Hull City's Senegalese striker Dame N'dioye. Again, Adelakun revealed how tough it was to leave the 30 year old striker out, saying "If there was a way we can have joint awardees, we will gladly share the February award between Kouyate and N'doye. The way he settled straight into the Premier League was remarkable, and he proved that he will be pivotal to Hull City's survival fight at the business end of the season".
"The Premier League is not an easy league to adapt to, and for N'doye to hit the ground running following his deadline day move to Hull, scoring on his debut and netting crucial goals, was very impressive".
'Tunde Adelakun went on to explain the seeming omission of Newcastle United's Papiss Cisse in the shortlist, despite good scoring performances over the months.
"Cisse has been good for Newcastle, and I know that on more than one occasion, his name has come up as a possible shortlist, or even Award favourite. But at New African Soccer, we want to create role models. And unfortunately, Cisse has been caught up in a few unsavoury incidents that has seemed to negate the good deeds that he has done on the pitch".
Adelakun called on the entire football family in Africa to support the player in whatever way they can. "It is clear that he is a good player, perhaps trying to find a balance between his inner calmness and the ferocity of being a targeted striker in the Premier League. We can only wish him well, so that his goal scoring exploits will not be overshadowed", he concluded.
Kouyate's award presentation will take place in the coming days.