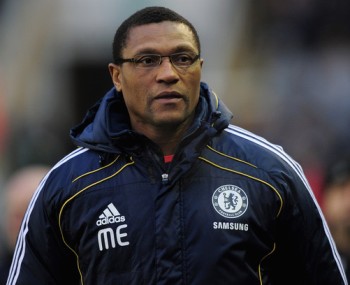 African football specialist Tunde Adelakun has expressed surprise at the seeming exclusion of Michael Emenalo from notable achievers of African football.
UK based Adelakun, who is also the Chief Executive of New African Soccer, noted that if Emenalo was from other countries, he will be reverred for his achievements to date by now.
"Emenalo can not be excluded from the stories of success at Chelsea football club" Adelakun said. "And when the names of big Africans who made Chelsea successful are being mentioned - the likes of Drogba, Essien, Kalou and even guys like Babayaro before him, we must not forget to praise Michael Emenalo".
Emenalo is the current Technical Director of new Premier League champions Chelsea and has been there for some years now.
He was also a member of the 1994 Super Eagles squad, a central defender who joined in taking Nigeria to its highest ever FIFA ranking of 5th best in the world, winning the African Cup of Nations and representing the country in the 1994 World Cup.
"In this day and age when managers are hired and fired, where managers come in to clubs and say they don't want to work with this sporting director or the other, Emenalo has weathered them all, working successfully with some of the greatest names in world football who have gone to manage Chelsea", he said, making reference to the likes of Ancelotti, Villas Boas, di Matteo, Benitez and now Jose Mourinho.
"And along the way, he's picked up titles as part of the Chelsea crew - including the prized Champions League and two Premier League crowns", he emphasised.
Tunde Adelakun, who also heads a body known as Africans Abroad Recognised, which, as the name clearly defines, aims to celebrate Africans who are doing well in the diaspora, stressed that it's not only these high profile titles that define the man Emenalo.
"When you also look at the results of the Chelsea team across the board - youth cup championship success, the women's team cup triumph - development squads that come directly under his care and office, then you have to admit that he must be doing something right".
Adelakun urged Africans to look up to people like Emenalo and make role models of them. "We celebrate him and think we can accord him the respect he deserves so we will be able to tap into his wealth of knowledge, exposure and experience to grow the game in Africa" he concluded.